Product Description
About the 18″ Accu-Pro VMC Benchtop Mill System with Ball Screws
This machine is based on our 18″ NexGen 5800-series benchtop mill. The 18″ mill base with ball screws comes with all-new saddles developed for the ball screws. The X/Y-mill saddle has been beefed up to accommodate the larger ball screws, and it has an electroless nickel/Teflon coating. The nickel coating offers a hard surface that is rustproof, while the Teflon provides a friction coefficient of .1-.2u for smoother movement of the saddle and the table. The Accu-Pro Mill also includes 36V closed-loop stepper motors with #23 NEMA frames, motor mounts with high-torque couplings, and C5 bearings in the headstock for smoother spindle operation.
Ball Leadscrew Specifications
Rolled Ball Screw with BSH Nut
10mm Diameter, 2mm Lead
C7 Accuracy*, P1 Preload
*C7 accuracy has a linear tolerance of 50 micrometers / 300mm or .002″ / 12.0″.
The ball screws are only available in metric.
About the Sherline/MASSO CNC G3 Touch Controller
The MASSO Touch Controller with power supply and spindle drive card allows you to input data to the controller via a state-of-the-art touch screen. With MASSO, you can write your CNC programs on your computer (Windows, Mac, Linux, etc.) and then transfer your program to the controller via a USB flash drive. No more having to use a dedicated operating system like Linux or Mach 4 to control your machine.
The Touch Controller includes:
Industrial cable system from the controller to the machine
36-volt power supply
Touch-controller stand
Do you want to know more about the Sherline/MASSO G3 CNC controller? Here are some resource links for your reference.
The 18″ MASSO Accu-Pro VMC Benchtop Mill System Package includes the following:
18″ mill is fitted with ball screws and all-new saddles developed for the ball screws
A Sherline/MASSO G3 Touch Controller
G-code Spindle Speed Control
An optical encoder
WiFi is standard with the MASSO G3 Touch Controller
Three 36-volt, Closed-Loop, High-Torque Stepper motors with a 70 in/min maximum feed rate
Professional cable wraps and covers for the X- and Y-axis
IGUS E-Chain flexible cable carrier for the Z-axis
MASSO homing sensors on all axes
USB 4 GB flash drive (With software, machine settings, sample programs, and PDF instructions included.)
1-year warranty on all machine components for non-production use. 90-day warranty on CNC and electronic controller-related components
Standard equipment for the CNC Benchtop Mill includes the following:
18″ base
Electroless nickel/Teflon-coated mill saddle
15″ mill column bed with nickel/Teflon coating
Headstock with #1 Morse taper, 3/4 x 16 spindle thread with precision C5 bearings
Headstock spacer block
18.0″ (457 mm) x 2.75″ (70 mm) table with two T-slots
7″ x 18″ tooling plate with three T-slots
Stepper-motor mounts with high-torque couplings
1/4″ Drill Chuck w/ key, #1 Morse arbor with drawbolt
Pulleys, drive belt, three hexagonal keys, spindle bars, gib removal tool, eight-foot three-wire power cord, and instruction manual
Oil reservoirs on the X/Y axes and the Z-axis to help keep critical parts lubricated
Accordion way cover and brass-tube leadscrew cover that keeps chips off of the Y-axis leadscrew
The Axes of Movement of a Sherline 18″ Ball Screw Benchtop Mill.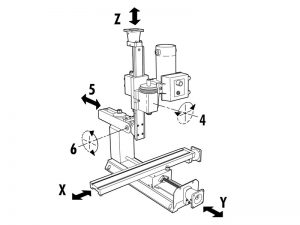 The table left/right movement is referred to as the X-axis. The table in/out movement is the Y-axis. The headstock up/down movement is referred to as the Z-axis. The headstock can also be rotated on its saddle on Sherline mills (#4), the column ram can be moved in and out (#5), and the Z-axis column can be tilted forward and back (#6).