About Sherline's Standard Headstock
Our standard headstock has a Morse #1 Taper spindle with 3/4 x 16 threads to accept 3/4 x 16 tools. The headstock includes a spindle pulley and a precision ground head key.
Custom Build Your Standard Headstock with the Following Options:
Class 3 or Class 5 Bearings
With or without an Electroless Nickel Plated Spindle
With or without a DC Motor and Speed Control Unit
Bearing Options
The bearings in the headstocks are offered in two classes: C3 and C5.
The C3 bearings have been standard in all of our headstocks for years and have proven reliable.
The C5 bearing headstocks come at a higher price than the standard C3 bearings headstocks, but they run smoother, quieter, and cooler than our regular class 3 bearing headstocks and are more suitable in an industrial setting.
Sherline's new C5 headstocks feature two 20 mm, class 5, lifetime-lubricated ball bearings with an adjustable preload nut. The preload is adjusted at the factory to .0002″ (.005 mm) of endplay. The preload adjustment is controlled by the outer races of the bearings being held apart by the headstock case and the inner races being pulled together by the preload nut. This is appropriate for extended running at speeds of 4000 RPM or less. You may need a slightly looser preload setting of .0003″ for operating speeds up to 10,000 RPM.
Optional Spindle Plating
You can select the option to add nickel plating to your headstock spindle. The electroless nickel plating aids in rust prevention and increases the spindle's surface hardness for durability.
How to Distinguish between Standard Spindles and Coated Spindles
There is a subtle change in the color of the coated spindle, but in the absence of comparing them side by side, the most evident way to tell whether you have a coated spindle or not is to check for the witness mark. There is a machined groove on the shoulder of the spindle where you would insert a Tommy bar. We add this groove at the factory so we know which spindles to send out for the plating process. (See Figure 1. Click on the photo to view a larger image).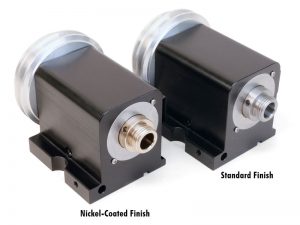 Optional DC Motor with Speed Control
You can order your headstock with or without our DC motor and speed control unit.
The powerful DC motor offers its maximum torque at low RPM, where you need it most in machining. This means it provides far more useable power than an AC/DC motor of equivalent or larger size. It also offers smoother and quieter operations than an AC/DC motor.
A sophisticated speed control unit powers and controls the motor. The speed control unit accepts any incoming AC from 100 VAC to 240 VAC, 50 or 60 Hz, and automatically outputs 90V DC to the motor so that this unit can be used anywhere in the world without a transformer. All you need is the correct wall plug or converter. Once the on/off switch is switched to the "ON" position, a speed control knob is used to vary the entire range's speed. With the pulley in the "normal" position, the speed range is about 70 to 2,800 RPM. In the "high torque" position, the maximum speed is cut in half, but torque at any given speed is much greater.