Troubleshooting notices for the Sherline/MASSO opticial encoder and speed control
Customers have recently contacted us about issues they are having with the Sherline/MASSO controller connected to the optical encoder or the speed control unit. Click the links below to learn how to troubleshoot these issues. The instructions can also be found on our Sherline/MASSO Help page.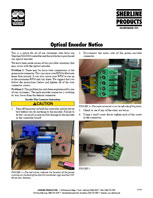 The Optical Encoder
Reportedly, the wire connections may be loose on the male connector, or the male connector may work its way loose from the female connector. CLICK HERE to read the Optical Encoder Notice troubleshooting instructions.
The Speed Control Unit
If you have connected your Sherline/MASSO controller to an existing speed control unit and it is not working, CLICK HERE to read the Troubleshooting the Speed Control Unit instructions.