Sherline Machinists Talk
If you have a story about how Sherline tools have helped in your hobby, business, or school, send us a letter or email, and we'll publish it here. Write to us at 3235 Executive Ridge, Vista, CA 92083 or email your message to marketing@sherline.com.
Read on for comments that have been sent to us by Sherline owners:
"I just wanted to say that your drill chuck adapter (P/N 3074 Drill Chuck Tool Holder) is one of the GREATEST tools I have on hand these days. I wish I would have purchased one sooner!
I ordered another one this morning to put on my 3/8″ chuck. I already have one on my 1/4″ chuck. The ability to switch from drill chuck to end mill holder and back again is a real-time saver and
I will also say that I believe the spindle with the drill chucks seems to run truer than ever.
Thanks again for such a fine tool."
Raymond T. Martin
Senior Optical and Mechanical Technician
"I just want to thank you both for the great tools and beautiful lathe. We're working on a great lathe stand. Moreover, I'm developing a new watch with moving parts and an amazing case in red gold and sapphire.
You're the best!"
Nelson Giesecke
Object Design Studio website
(via email)
"I have been using my Sherline lathe and milling machine for five years, and they have become an invaluable part of my model shop. The variety of attachments offered makes it possible to accomplish just about any machining operation on a wide range of model work.
The model ships I build are scratch built and require accurately machined parts (i.e., gears, pulley, deck guns, winches, port lights, antennas, hinges, etc.). I have machined parts from many different materials, such as aluminum, brass, steel, stainless steel, wood and plastic with excellent results. Both machines are strongly built and accurate. I am consistently able to hold tolerances of .001″ and, with care, .0005″.
I highly recommend Sherline machines."
Phil Mattson, Master Model Builder
California
(See www.craftsmanshipmuseum.com/Mattson.htm for information about Phil, and photos of his work.)
"Dad and I bought a Model 5400-CNC mill a couple of months ago. It was only intended as a little introduction to CNC (we were intending to buy a larger machine), but we've found it so useful that we can now do all our projects on it! Dad uses it mainly for making his patterns for jewelry casting.
Currently, I'm building a carbon dioxide gas laser and I used it to lay out the holes for the mirror mounts. I am so glad I have a CNC machine to do all the work for me! Just draw it out in Rhino, hit a few buttons and out comes the lump of metal with the holes in it. Absolutely wonderful! Thank you for making a great machine with ultra-clear instructions and for excellent service!"
Lindsay Wilson
(via email)
"I recently bought some Sherline tooling for UCSD. The lathe quick-change setup is excellent. With the above, I was able to make some precise tubes for a Transmission Electron Microscope (TEM). These tubes are 3.2mm OD x 0.5mm ID x 2.62mm long. They function as pedestals for a precise orifice. Each tube/orifice set from the manufacturer is $1000, and it takes 4 to make a TEM assembly. I am very impressed with what I can do with the Sherline lathe! This one job paid for the lathe and all the tooling."
Wayne N.
(via email)
"I have finally completed my self-inflicted teaching assignment of building five of Rudy Kouhoupt's Stirling engines, and they even work! It has been very rewarding accomplishing this project, and I have learned enough at this point to make other small devices and parts for my camera equipment that would have been impossible to obtain anywhere. The ability to make metal parts and thread anything I want, in any way I want, are advantages I always knew existed, but I never thought it would be so much fun! I wish I would've gotten into this game long ago, I could have saved a lot of time and aggravation repairing stuff, and I've missed a lot of enjoyment too.
In our work, we go into machine shops quite often to do photographs, and I always thought that good quality machine tools had to be big, heavy and very expensive and that a person had to have about a hundred and one years of training before they could do anything with them. Well, curiosity finally forced me to call for more information on your products, and, as I looked through the pages, I began to understand that one might not have to be a master machinist to use your products. I have since purchased the deluxe mill, rotary table and many of your other products and accessories and am extremely pleased with how well they are built and how well they function. I would like to thank you for making these fine products that actually work in the professional and precise manner for which they are designed, for pricing them so people can afford them and, what may be the most important, for promoting learning and skills."
Tim Schroeder, professional photographer
Michigan
"We wholeheartedly agree with Joe Martin's quote from Tabletop Machining -'Often engineers feel that their education has left them shortchanged when it comes to real, practical knowledge of how machines and machinists actually go about working with metal.' At TCU, we are trying to change that. We have a teaching lab full of Sherline lathes and mills and have used them to teach our students (during the school year) and high school students and teachers (during the summer). They have been ideal for teaching since they are precision tools that the students find easy to use.
Also, our research and development projects often require small custom parts. Our Sherline equipment has allowed us to fabricate our parts quickly and accurately. We have all enjoyed using them."
Steve Weis, Associate Professor
Texas Christian University, Department of Engineering
"I have made several very small parts with ease on your equipment that would have been very difficult to impossible on my full-sized equipment. Your products are definitely a very worthwhile addition even to someone that already has a complete conventional machine shop."
John E. Curlett, Consultant
California
"I received my order today and all I can say is, 'Wow!' This has got to be the coolest thing I have ever bought. I haven't stopped playing with it since I walked in the door at 4:30 pm and it is now almost midnight. No dinner, the dog is still waiting to go outside and my wife is wondering what the heck all this stuff is all over the kitchen table."
Dave Albert, Custom fishing reel maker
California
"I have no relationship with Sherline other than being a very satisfied customer. Sherline equipment will quite happily cut all metals. In the steel / ferrous area, I have machined mild steel, free cutting mild steel (Leadloy), drill rod, some stainless which I think was 18/8 and grey iron model castings (Stuart Turner). Brass and Aluminium cut like butter. I've been using the 5400 Mill and the 4400 Lathe for a year. They have both done everything I expected and a lot more. I can quite happily make small parts to an accuracy of 1 thousandth of an inch or better."
David Banham,
Toronto Society of Model Engineers
"I have been building roots for a number of years. I had a lot of difficulties trying to make gearboxes and sliding parts using a drill press. Purchasing a Sherline milling machine and lathe was the best thing I ever did. In fact, they are my most valued possessions. I use a Sherline digital readout (DRO) with the milling machine. It works great!!! Now I am getting ready to convert the milling machine to a CNC system.
I wish to thank everyone at Sherline for the wonderful products and excellent service."
Mark C. McNab
"I am a professional model builder of thirty years. I specialize in building working models of miniature oilfield equipment. I have used my Sherline lathe and milling machine for four years and find it to be fine equipment, well designed and built for what it is intended.
My Sherline equipment has assisted me in manufacturing miniature pump heads, pump shafts and can work for my oil rig equipment. I highly recommend American made Sherline equipment."
John White, Professional Modeler
California
"I can't imagine why I waited most of my adult life before finally purchasing a mill and lathe, but that's what I did! Part of my problem was finding a good quality machine that wasn't huge in size and yet was capable of maintaining good, accurate tolerances. Well, a friend of mine who manufactures state-of-the-art ducted fan jets has both the Sherline mill and lathe. During a ten-year period, they worked flawlessly, and he is elated with them. I visited him, got my hands on the mill and lathe and placed an order the next day."
Dave Grainger
California
"My steam engines are machined from castings to a tolerance of .0005″. they are not toys, but precise machines…it requires a precision tool to do this. Sherline does it best–for far less than the $2000 to $5000 industrial machines. Sherline is compact and portable as well. An added bonus are the accessories available for special jobs."
James Horvath, M.D.
Ohio
"I have purchased one of your lathes from our local hobby store, and I would like to say that it's nice to see such a fine built piece of machinery. I know I made the right choice when I chose Sherline, and I sure will tell anyone looking for a lathe to look your way."
William Reeves, Hobbyist
Canada
"I would like to say that I consider Sherline tools to be by far the best of the small machine tools—not just the best buy, but the best. I have been in engineering since 1945 in the U.K and Canada, and for the past 12 years have been a professional model maker specializing in miniature models. I reckon I am the world's leading maker of collectors' model aircraft. (1/200 is the collector's scale.) I have used just about all the small machines at one time or another and used Unimat machines for years. I find that with Sherline tools I can work faster and to tighter limits than with any comparable machine and that the machines are a delight to use—far more "user-friendly" than others. In fact, I would say of the Sherline that no machine selling for that price has the right to be that good. Finally, I rate your book, Tabletop Machining, as the most informative of all model engineering handbooks."
C.A. (Tommy) Atkins, professional model maker
England
"I own a small business that manufactures parts for old fountain pens and I find the Sherline lathe and milling machines to be invaluable. They are both extremely well made and the many attachments are reasonably priced.
I have been using these tools for about four years without any problems and can highly recommend them."
Peter Amis, Business Owner
California
"Your lathe has made it possible for us to complete the assembly and fabrication of many intricate parts that are critical to the function of the special machinery that we design and produce. In fact, the machine was used so much that we practically wore it out! Anyway, we are definitely satisfied with your company and its service to us. We probably will be buying the new series this year to accommodate and enhance our Small Tool room."
Richard Proud, Engineering Company President
Illinois
"I use the mill for many things at my company. I am always in need of something being cut or I require a complex shape. I looked for a mill for a long time before I stumbled across your website. Your machine was exactly what I was looking for, and the price was very reasonable. (Don't tell anyone, but I would have paid more.)
Stephen Nelson
(via email), IC circuit testing machine designer and 2000 mill customer (See "Workshop" page for Project 26.)
"I would really be unable to make my Irish flutes without the use of your Sherline mill. I have the rotary table (CNC) on the left with a 5C holder for lots of options. I lengthened the bed so I can hold all the jigs plus some rather long workpieces. I use a second CNC rotary table to tip the Z-axis. Last time I checked, this kind of capability in any other machine costs thousands more. Sherline is a great value and a great performer."
Walt Sweet
Sweetheart Flute Co.
CT (www.sweetheartflute.com)
"I continue to expand my business, and from five years of experience with Sherline products and its services, I am quite impressed. I will definitely get my next machining equipment from Sherline. I am planning to become a fountain pen manufacturer in South Korea. For the ebonite parts that I will be machining, I will use Sherline gang lathe and gang mill.
Take care, and as always, thank you for your dedication and service."
Sanghyeon Jung (a.k.a. David the Korean machinist)
"This last December I bought one of your 4000 lathes as a Christmas present to myself, I got the "B" package. I am not a machinist and have never even used a lathe before. I just wanted to tell you how happy I am with my lathe. With the help of your videos and the manual, I had it set up in short order and started using it. I use it to form brass cartridge cases for antique black powder cartridge firearms mostly for thinning or reducing the rim diameter or thickness of the brass, but also to remove extra thickness in general. I am really having a ball using your lathe. As many predicted I am already thinking up new uses that never even occurred to me before. Thank you for a great product."
Steve Goselin
"I just want to thank you both for the great tools and beautiful lathe. We're working on a great lathe stand. Moreover, I'm developing a new watch with moving parts and an amazing case in red, gold, and sapphire.
You're the best!"
Nelson Giesecke
"My Sherline shop is the best investment I've ever made. It opened up a whole new business for me. Here is a photo of a toothed pulley that I reverse-engineered and am now supplying to a client. It is used in the bill transfer part of an ATM…It's about the size of a nickel. It is made in 2 pieces. One side is an independent end-cap. Both sides have a bearing pressed into them (different ODs)…To get a repeatable set-up to machine the recesses for the bearings I found it more accurate to mill them using my rotary table rather than use the boring bar on the lathe…I get a nice tight fit for the bearings each and every time…Fun stuff!!"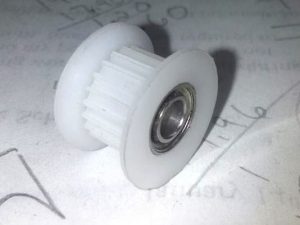 Dennis Fascilla
Mexico
"I received my Sherline 4400 lathe a week ago. It is my first lathe. I do have experience with standard workshop hand tools and also a drill press. I am building an airplane (Van's RV-8A, www.vansaircraft.com) so I am working with aluminum sheet and angle regularly, but this is my first experience with turning on a lathe. After looking at a lot of information on the web I decided on Sherline – mostly because of the excellent information on your website.
For my first project, I decided to turn new handles for the feed handwheels since the plastic pieces were easily replaceable. Using the instructions with the lathe I learned simple turning, shaping, tapering, boring, and parting. After a few tries and a lot of quick learning I was able to create these in just a few hours."
David Kumhyr
Texas
"Having worked with a manual 10″ lathe for a few years now I didn't see how such a small machine could work with the 2" diameter material I was hoping to work with. Well, after using it for a week and a half it has surpassed my wildest dreams of usability. It is more powerful than I ever would have suspected, it leaves a beautiful finish and is highly accurate. The machine has worked so well that I am not only using it for prototypes but for a small production run as well!
Jordan Blessing, President
ScopeTronix Astronomy Products
"We purchased a couple of your machines several months ago on the strong recommendation from one of our customers. I'd just like to tell you that we've been nothing but pleased with the quality, performance, and support we've gotten out of the deal. I'm also pleased to be supporting a US company!"
Michael Frome, Chief Design Engineer
FROMECO Scale Avionics
"As administrator in charge of McDonald Douglas' MD-11 rework crew, we had a need for a small, accurate metalworking lathe. We chose the Sherline lathe for its ease of operation and accuracy. Now, ten thousand bushings of aluminum, titanium, and stainless steel later, this lathe still holds .0002″ tolerance.
This small machine has performed like a giant, greatly enhancing the scheduling, and it has added to the knowledge and skill level of much of our workforce. Thank you for a fine AMERICAN product!"
George Cochran, Administrator
California
"I own eleven lathes, including four different miniature, precision or watchmaker's lathes. My Sherline is one of the best and most useful of them."
Alan Walmer, Machinist
Pennsylvania
"I own a small machine shop doing contract work for a major corporation. We use the Sherline lathe in a winding capacity in conjunction with a much larger machine. This system has been successful using Sherline equipment to the point where a multitude of machines has been purchased over the years."
Larry Rubido, The Machine Shop
Massachusetts
"Our business is the restoration of older (1897 through 1974) gasoline carburetors and the fabrication of parts for same. Most of the work is "one-off" in nature. We have been using a Sherline mini-lathe for a number of years, and we recently purchased a Sherline mini-mill. We are able to fabricate virtually any non-casting carburetor parts such as venturi, fuel valves, jets, nozzles, throttle shafts, choke shafts, throttle plates, etc. The machines are quite easy to set up for "one-off" jobs and flexible enough for nominal repetitions. Meeting original blueprint tolerances is no problem using the Sherline mini-lathe and mini-mill."
Jon Hardgrove, The Carburetor Shop
Missouri
"It sure is nice to have capabilities that I never had before. I didn't mind paying machinists, but I couldn't find anyone to do prototype work, and if I did, some of what I needed was so simple that they encouraged me to buy a small lathe or mill and do-it-myself. Your machines and accessories keep these jobs simple so I no longer have to beg people to do these small jobs which are critical in the scope of what I'm trying to accomplish.."
John Ulaszek, Ultra Security Group
California
"I received my Sherline Deluxe Mill and accessories today. I have only "played" with it for a few minutes with an end mill. Wow!! What a fine machine!! I cannot find words to tell you how pleased I am with my purchase. I received a precision machine, a multitude of accessories and instructions for hundreds of dollars less than the next closest mill I could find–for just the mill with no accessories.
I am extremely pleased with my purchase and look forward to the near future when I can purchase a Sherline lathe and more accessories for my mill. Thank you for making such a fine product. And, I have to add that I just read yet another glowing recommendation for your product from someone on the Internet."
Thanks again,
A very, very satisfied customer,
Arden Howell IV
Virginia
"I know that I made the right choice to go with Sherline Products. The build quality and accuracy of your machines not only impress me but also your level of service that backs your great products. In a world of fast food, disposable items, and nonexistent customer service, Sherline is a breath of fresh air. It's like going back in time to when people actually took pride in making a quality product and backed it by reputation."
Kent Ochiai
Hawaii
"I bought Sherline machines because of their reputation for quality and because they offered such good value. I have not been disappointed on either score."
C.T. Atkinson
Connecticut
"I developed a method to make nanowires by electroplating. In a single experiment I create billions of metallic wires so small that if a bundle of a million were twisted together, the whole bundle would still be thinner than a single strand of a spider's web. These wires are up to one-half millimeter in length, which seems very short on a machining scale, but if you enlarged one of these wires to the diameter of your little finger, it would be about a mile long. How Sherline has helped me is by allowing me to dream of a new tool to work on this scale and then create those tools so that I can do what was impossible just the previous day or a few weeks before.
My machining skills are very crude and, by a professional's standards, probably barbaric, but the ease with which I have been able to control your instrument without much training has made the difference. Thanks."
Mike Zach, Research Scientist
University of California, Irvine
"I was astonished when I first explored your website. I don't astonish easily (especially after flying helicopters in combat in Vietnam for a year), but I was when I poked around your site. I haven't found many websites to equal it. The amount of information you present is simply incredible: the complete line, instructions for each machine and accessory, factory tours, links, the Internet Craftsmanship Museum, various "ramblin's by Joe", and so on. Really, you are too generous with our information, and I wondered if you weren't providing material which would aid your competition. It eventually dawned on me that, in fact, you have no competition."
Robert N. Steinbrunn, professional pilot and ship and aircraft modeler
Minnesota
"A couple of months ago I wrote to Sherline explaining that I was a neophyte metal worker trying to restore an old woodworking tool. You were kind enough to reply to my request for information. I purchased the lathe and accessories you suggested (plus a few more) and it worked perfectly.
I'm just writing to thank you and to compliment you on your products. I can't tell you what a pleasure it was to open the box and find not just what I expected to find but what I hoped to find—a really first class product. Seeing "Made in America" on the tool was icing on the cake."
John Nelson
Idaho
"Just a line to thank you for the tour of the plant and museum you gave my son-in-law and me on December 27th. The idea for the tour came from your website–it's one of the best and most informative on the web."
Jacques E.
Torrance, CA
"Tell the boss that your website is awesome – probably the finest I've ever seen and used. Keep up the great work."
A very happy customer,"
Ron Lee
(via email)
"Your device (P/N 8700 CNC Rotary Table) came to me as promised; on time, well packed and shipped. Within seconds of having it out of the box, I had it up and working; talk about an intuitive device! Later reading of the instructions confirmed and expanded on how versatile this device really is. It's well made, both mechanically and electronically. The backlit LCD screen is very easy to read, and it contains enough functions to cover any scenario I can think of, now or down the line. In fact, it's so beautiful, clever and well made that it might be too much so to actually put into service; it may end up in my museum of Things That Are So Incredible That It Would Be A Shame To Actually Use Them!  Still well worth twice the price!"
Les Malzman
Portland, OR
Commercial filmmaker, machinist, and stop-motion photographer
"When I retired 13 years ago I had never touched a metal lathe or mill, but I had always wanted to learn the basics of machining and to make "something" in miniature. However, the time required to complete the typical steam engine or sailing ship seemed to test my attention span and led to several aborted projects and some degree of frustration. Continuing to search for the "right" type of project eventually led me to creating working models of classic woodworking hand tools in a small scale, and I realized I had found my challenge!
During the last nine years, I have created about 50 unique reproductions of tools from the mid to late 19th century, all of which have been machined on Sherline equipment. I work mainly in brass, cocobolo, ebony, ivory and softer steels and find all of these materials are easily and accurately machined on your tools. I have added to my shop as I learn new skills and now have a Model 5400 mill (with your DRO package), a Model 2000 mill driven from a 4-axis CNC system, and a 24-inch lathe.
I am currently constructing a blog to describe my tools and some of the process steps that I have used with the hope that the blog will attract other modeler's who will share their comments and experiences on the site. Although not yet completed, the blog is open for review and comment at minitool.blogspot.com.
All of my work and investment is for my own pleasure only. The challenge of learning new skills and exploiting those skills by creating new, more complex miniatures is my personal reward! Thanks for providing and supporting a fine family of products!"
John Maki
Port Ludlow, WA
Regarding Joe Martin's book, Tabletop Machining…
"When I was starting out teaching myself machining, one of the first books I ever read was Joe Martin's Tabletop Machining. It was a very influential book for me and is quite likely, responsible for me getting hooked on machine work in the first place. So Please pass that along to him for me and tell him, 'thank you'."
Sincerely,
Chris Bathgate
(See Chris's work at www.CraftsmanshipMuseum.com/Bathgate.htm or at his site at www.chrisbathgate.com.)
"This last December I bought one of your 4000 lathes as a Christmas present to myself, I got the "B" package. I am not a machinist and have never even used a lathe before. I just wanted to tell you how happy I am with my lathe. With the help of your videos and the manual I had it set up in short order and started using it. I use it to form brass cartridge cases for antique black powder cartridge firearms mostly for thinning or reducing the rim diameter or thickness of the brass but also to remove extra thickness in general. I am really having a ball using your lathe. As many predicted I am already thinking up new uses that never even occurred to me before. Thank you for a great product."
Steve
"Here's an unsolicited testimonial to congratulate you on a fine product, the threading attachment for your lathe.
I am in the process of revitalizing a 3.5″ gauge Rob Roy live steam locomotive that has been a shelf queen since about 1984. Part of the process has included blanking off all of the boiler connections for a pressure test.
I needed a blank for the end of the main boiler steam pipe outlet where it attaches to the cylinder steam inlet pipe. Finding the thread size for the male end of the main cylinder steam pipe union was a real chore. It looked like 3/8 x 40 tpi at first, but finally devolved into .345 x 40—a really odd size in my book. Fortunately, when I bought a used Sherline lathe and mill a few years back, they came with just about every possible attachment, including a lathe threading attachment that I had never tried because it looked rather silly. Well, I'm now able to report that it's not silly at all because it made exactly the right 40tpi thread on the first try.
And yesterday, the boiler passed its pressure test at 120psi.
Keep up the good work.
Oh. I didn't mention that I am not an engineer or machinist, and that I have no formal training in either discipline or anything even remotely similar, and still I was able to use both the lathe and the threading attachment without any difficulty."
Bob
"I love my Sherline! I have now made 18 pens so far. Here are 12 of them. And will continue to make many more. Now that all my other appointments have been cancelled, I have better time turning pens. So, I am so glad that I found your company and your fantastic tools."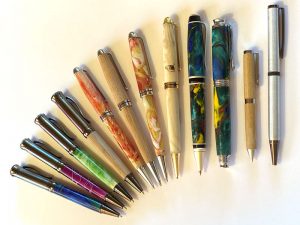 Arild Johansen
Norway
"Hello, I just wanted to send a brief note on how happy I am with both my Sherline lathe and mill. Coming from a non-machinist background (*I am a carpenter), I didn't really know what to expect. There is a learning curve to be sure, but in much less time (*and with trial and error of course) than I had thought, I am making parts and finished pieces that are accurate, repeatable, and have a very nice finish. These machines are small, but they are fully capable. Way more capable than I am. Thanks!"
John Havlicek
"I wanted to thank you for everything you did for me to help me buy the right equipment for my retirement next year. I would like you to know that all our conversations were extremely helpful and I never once thought that you were bored or annoyed with my constant questions. Your humor, insight, and frank discussions made the learning/buying experience easy for me.
Kat was very patient making sure my order was correct and shipped right away. She also fixed anything that went astray. John Costello was instrumental in getting my Masso unit up and running. He is an extremely talented and gifted individual. We have a good time discussing pros and cons about lasers for Sherline."
Kevin Clarkowski
I have a Sherline manual lathe and manual mill, both with DRO. I believe I have almost every available option and accessory for both. I absolutely love both and use them daily. They have become a huge part of my daily life. I am so happy with my decision to be strictly a Sherline machine workshop.
Thank you for making such high-quality products.
John Wilber