Holiday Specials for November 2020
Give Your Sherline CNC Machines the Gift of an Upgrade
Save 20% on MASSO CNC Controllers and Sherline CNC Mill Ball Screw Retrofit Kits!
Upgrade any of your current Sherline CNC machines with our controller powered by MASSO or add ball screws to your standard leadscrew mill with a Ball Screw Retrofit Kit.
NOTE: In the event, we run out of a product offered on special, we may change the special or put the items on backorder at our discretion.
Sherline/MASSO CNC Controllers
Here are some of the main features of our new CNC controller:
Control the spindle speed with g-code: Analog spindle speed control has been standard on our machines, but now we have new technology on the board that controls the spindle speed using g-code rather than using an adjustable dial.
Optical encoder: MASSO designed a compact optical encoder for us. This encoder design fits perfectly with our machine and our accessories
Do single-point threading
Has an accurate RPM readout
Limit switches
Homing ability for each axis
WiFi communication
Regular software upgrades: Their software is continually improving, and it is extremely easy to upgrade.
Learn why we chose MASSO boards to improve our CNC control with a new stand-alone operating system. CLICK HERE.
P/N 8780 Sherline/MASSO CNC Controller w/Driver Box
Regularly $1760.50, Save $352.10, Now only $1408.40
The MASSO controller allows you to write your CNC programs on your computer (Windows, Mac, Linux, etc.) and then transfer your program to the controller via a USB flash drive. No more having to use a dedicated operating system like Linux to control your machine. This set up includes our 4-axis CNC driver box.
(CLICK HERE for product details)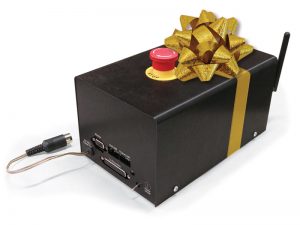 P/N 8781 Sherline/MASSO CNC Controller
Regularly $1260.00, Save $252.00, Now only $1008.00

If you already own a 4-axis CNC driver box (P/N 8760), then this is the perfect way to upgrade your CNC system with the Sherline/MASSO controller.
(CLICK HERE for product details)
Sherline Mill Ball Screw Retrofit Kits
P/N 6800 Mill Ball Screw Z-Axis Retrofit Kit
Regularly $607.10, Save $121.42, Now only $485.68
P/N 6810 Mill Ball Screw XY-Axes Retrofit Kit
Regularly $1,197.28, Save $239.46, Now only $957.82
P/N 6830 Mill Ball Screw XYZ-Axes Retrofit Kit
Regularly $1,804.00, Save $360.80, Now only $1,443.20
NOTE: There is a two to three week lead time for the retrofit kits.
The key upgrade parts for the ball screw retrofits kit include ball leadscrews, high-torque stepper moto couplings, and the ball screw mill saddle (with nickel / Teflon plate) for the X/Y-axes, and a ball screw vertical milling column saddle and column saddle Z-axis ball nut mount for the Z-axis.
When ordering your new Ball Screw Retrofit Kits, you will need to supply the following information for your current machine so we can ensure you receive the correct length of the ball screw for each axis:
Machine Model
Table Length, Base Length, and Column Bed Length
Does your vertical milling column base have a 1/2″ through-hole for the Y-axis Brass Cover Tube?
(CLICK HERE for product details)
Monthly Special Discount will be applied at checkout.