Product Description
About the Sherline NexGen Benchtop Mill
The Sherline NexGen Benchtop Mill is our largest vertical milling machine to date. With the increase in popularity of Sherline mills in industrial, laboratory, and school training environments, the need to produce larger parts has led to the development of an extended-capacity milling machine. The NexGen benchtop mill has a larger mill base, a longer crosslide table, and a longer mill column compared to our deluxe 8-direction benchtop mill (Series 2000/2100).
To take maximum advantage of the extended column travels on this extra capacity Sherline mill, the column base has been increased in cross-section for additional rigidity. The ability to swing the column arm from side to side has been eliminated in order to maximize the column's ability to maintain its position during heavy cuts. The column still rotates 90° left and right, and the in/out adjustment is still available, giving it seven directions of movement, including X, Y, Z, and headstock rotation on the column itself.
Our NexGen benchtop mill is perfect for the customer looking for a mini milling machine to make small, precision parts. All our milling machines are made in the USA, and our customer service is second to none. Although our machines are small, they can produce high-quality precision parts. Our 18″ benchtop mill will not only cut wood and plastic but is also rigid and accurate enough to cut aluminum and steel parts. This mini mill is a desktop-size machine with full-size machine precision and accuracy.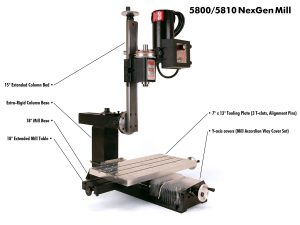 Notes on ordering a metric mill
Most of our cutting tools, like center drills, are manufactured in a fractional size. If you have a metric machine with metric holders, like collets or end mill holders, you will need to order fractional holders to accommodate our cutting tools.
Standard equipment for the model 5800 (5810 metric) NexGen Benchtop Mill includes:
18″ Mill base with Y-axis leadscrew protection
2.75″ (70 mm) x 18.0″ (457 mm) Extended mill table with two T-slots
7″ x 13″ Tooling plate
15″ (63mm) Extended column bed
Extra-rigid column base
2″ (51mm) resettable, zero adjustable handwheels on the X- and Y-axes, and one 2-1/2″ (63mm) resettable, zero adjustable handwheel on the Z-axis. Each handwheel has laser-engraved aluminum handwheel collars
¼" Drill chuck w/ key, #1 Morse arbor with drawbolt
Oil reservoirs on the X-, Y- and Z-axes
Pulleys, drive belt, three hexagonal keys, spindle bars, gib removal tool, eight-foot three-wire power cord, and instruction manual