Product Description
Most expensive full-size machine tools allow the machinist to reset the handwheel to "zero" (or any desired setting) at any time during the machining operation. That option is available on Sherline's miniature machine tools as well. These handwheels install easily in place of the standard handwheels by simply releasing one set screw. Operation is simple as well. Just release the black locking nut while holding the handwheel. Then reset the red handwheel collar to "zero" and retighten the locking nut. Now you can dial in the amount of feed you want starting from zero without having to calculate your stopping point. It's a great time saver and also reduces the chance of errors.
All standard 1⅝" handwheels can be replaced with 2″ adjustable handwheels; however, the larger 2½" handwheels are not recommended for use on both the lathe leadscrew and tailstock together as they will interfere with one another but can be used anywhere else. Both inch and metric versions are available.
A special 2½" diameter handwheel, is available for the Z-axis of the mill or vertical milling column. Newer machines come with this special 2½"  handwheel which has a ball thrust bearing set to relieve the stress caused by the lifting action of the vertical Z-axis that is not present on the other horizontal axes. Older machines can be upgraded to use the new ball bearing set when getting the resettable handwheel. Call with the model number of your machine, and we will help you select the proper handwheel upgrade.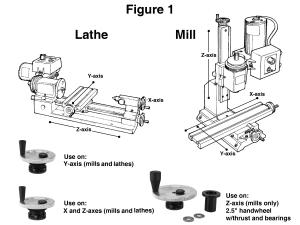 FIGURE 1: The engraved numbers on the collars are oriented differently for ease of reading depending on the axis onto which they are mounted. For example, if you mount a handwheel designed for the mill X-axis on the mill Y-axis, the numbers will appear upside down (handwheels shown in FIGURE 1 are not necessarily those that will ship with your order).
| | |
| --- | --- |
| The improper use of machine tools and their accessories can result in serious injury. Before using this tool, thoroughly read the instructions and make sure you understand its proper and safe use. | Always wear safety glasses when operating machine tools. |
---
Download PDF 3420 Instructions
| | |
| --- | --- |
| 34020 | Oversize Handwheel Knob |
| 34030 | Oversize Handwheel Shaft |
| 34080 | 2-1/2″ Handwheel Plug |
| 34220 | Handwheel Locking Nut |
| 34230 | Engraved Zero Collar, Y-axis; Inch (Metric P/N 34240) |
| 34260 | Engraved Zero Collar, X-axis; Inch (Metric P/N 34270) |
| 34250 | 6-32 x 7/8″ Pan Head Screw |
| 34410 | 2-1/2″ Zero Handwheel Body |
| 40190 | Snap Ring |
| 40520 | 10-32 x 3/16″ Cup Point Set Screw |
Shipping
We do not charge a flat rate for shipping because of the variations in weight for our products. Instead, we charge you what the shipping company charges us. Our website uses a shipping calculator based on the daily rates for USPS and UPS based on the weight and destination of the shipment. You can also have us use your UPS/FedEx account number to charge your shipping. Just enter it in the appropriate box on the checkout page.
Domestic orders are shipped Monday – Friday. Expedited orders must be placed by 9 am PST to ship the same day.
Orders shipping ground have a processing time of 7 working days for domestic orders and 14 working days for international orders. CLICK HERE for more information on our shipping and order policies.
Returns
Most merchandise can be returned within 30 days of the purchase date. A refund will be issued to the original form of payment at the original selling price. View our complete return policy and/or start your return online here.