Product Description
About the Sherline 4″ Rotary Table
A rotary table used in conjunction with a mill allows a machinist to produce virtually any part they can design. Sherline's rotary table is a precision piece of equipment that has been designed to work with their vertical milling machines. However, it can be used on any mill whenever the small 4-inch size would be an advantage. The only limits are size, not complexity.
The table is 2″ high and 4″ (100mm) in diameter. The main components have been machined from solid bar stock steel, and the complete unit weighs seven pounds. The table has been engraved with a laser, giving sharp and precise lines every 5°, numbered every 15°. These lines are calibrated with the 72-tooth worm gear that is driven by the handwheel. The handwheel is divided into 50 parts, making each line on the handwheel 1/10°. This allows a circle to be divided into 3600 increments without interpolation. Seventy-two revolutions of the handwheel rotate the table one revolution.
NOTE: We are stating the following weight limits for our rotary tables for continual use.
Horizontal orientation—50 lbs.
Vertical orientation—30 lbs.
Vertical rotational torque—6 foot/lbs. (meaning it can lift a 6 lb. weight when suspended 12″ away from the center of the rotary table)
The rotary tables can hold more weight when they are not under a continuous load. Click on the Video tab above to see examples of different weights and uses for our rotary tables.
The table T-slots are identical to those used on the Sherline mill and lathe, making the vast line of Sherline tooling available for use with this product. Two hold-down clamps and T-nuts are provided with the table. Also included is an adapter that allows Sherline's 3- and 4-jaw chucks to be screwed directly to the rotary table. An optional right-angle attachment is available (P/N 3701) to mount the table in the vertical position to increase its versatility further. With the table mounted vertically, an optional adjustable right-angle tailstock (P/N 3702) can be mounted to the mill table. It is used to support and stabilize the other end of long work held in a chuck or otherwise attached to the rotary table.
The rotary table has a unique table locking mechanism that is positive and does not move the table as it is locked. To maintain accuracy and frictionless movements, ball bearings are used. Worm gears are factory greased, and the drives sealed to keep out chips and dirt. An oiler is easily accessible to facilitate lubrication of the table. The appearance is instrument quality with a black oxide base, precision ground finishes, and laser engraved markings.
As with all Sherline tools, the illustrated instructions are very useful. The 8-page manual covers the basics of rotary table use and takes the user through a typical project.
Any machinist desiring to take his capabilities to the ultimate levels should consider purchasing and learning to use a rotary table. The Sherline rotary table is an extremely precise and well-built piece of equipment that is sized to fit our product line. It can also be useful on larger equipment when its compact size is called for.
Converting a Manual Table to CNC-Ready
NOTE: You can have your manual rotary table upgraded to CNC-ready, but this is done as a factory-only replacement. You will need to ship your manual rotary table back to our factory for the conversion.
CLICK HERE for details on the conversion process.
| | |
| --- | --- |
| The improper use of machine tools and their accessories can result in serious injury. Before using this tool, thoroughly read the instructions and make sure you understand its proper and safe use. | Always wear safety glasses when operating machine tools. |
| Download PDF 3700 Instructions | |
CNC Rotary Table in Action
| | |
| --- | --- |
| Rotary Table Weight Capacity Specifications | |
| Horizontal orientation | 50 lbs. |
| Vertical orientation | 30 lbs. |
| Vertical rotational torque | 6 foot/lbs. (meaning it can lift a 6 lb. weight when suspended 12″ away from the center of the rotary table) |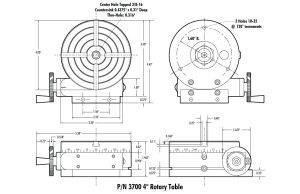 *NOTE: If you need a metric equivalent for the 10-32 thread, you can use a 5 x .8mm thread. If the fit is too tight, you can retap the 10-32 holes with a 5 x .8mm tap, and the new threads should be fine.
| Part No. | Description | Quantity |
| --- | --- | --- |
| 10930 | 3/8″ Bearing | 2 |
| 30561 | 10-32 T-nut | 2 |
| 3058 | 4-Jaw Hold Down Set Assembly | 1 |
| 37090 | Rotary Table Chuck Adapter, 3/8-16 to 3/4-16 | 1 |
| 37100 | Rotary Table Base | 1 |
| 37110 | Rotary Table Top | 1 |
| 37120 | Worm Housing (Not sold separately) | 1 |
| 37130 | Worm Gear (Not sold separately) | 1 |
| 37150 | Oil Plug | 1 |
| 37160 | Preload Nut | 1 |
| 37170 | Lock Pin | 1 |
| 37200 | Button Head Screw, 10-32 X 3/8″ | 2 |
| 37210 | Hold Down Tab | 1 |
| 37220 | Button Head Screw, 6-32 X 1/4″ | 1 |
| 40050 | Handwheel Assembly | 1 |
| 40330 | 10-32 X 5/8″ SHCS | 2 |
| 40420 | Headstock Bearing | 1 |
| 40510 | SHC Screw, 10-32 X 3/8″ | 1 |
| 40520 | Cup Point Set Screw, 10-32 X 3/16″ | 4 |
| 40540 | Cone Point Set Screw, 5/16-18 X 3/4″ | 1 |
| 40660 | Washer | 1 |
| 40670 | 10-32 X 1/2″ SHCS | 2 |
| 50120 | Pointer | 1 |
Click the P/Ns below to download a zipped version of the IGS 3D CAD file. You will need to extract the zip file before viewing the files.
3700 3D IGS model
You need an IGS viewer to open .igs files. CLICK HERE to download a FREE IGS viewer.
Shipping
We do not charge a flat rate for shipping because of the variations in weight for our products. Instead, we charge you what the shipping company charges us. Our website uses a shipping calculator based on the daily rates for USPS and UPS based on the weight and destination of the shipment. You can also have us use your UPS/FedEx account number to charge your shipping. Just enter it in the appropriate box on the checkout page.
Domestic orders are shipped Monday – Friday. Expedited orders must be placed by 9 am PST to ship the same day.
Orders shipping ground have a processing time of 7 working days for domestic orders and 14 working days for international orders. CLICK HERE for more information on our shipping and order policies.
Returns
Most merchandise can be returned within 30 days of the purchase date. A refund will be issued to the original form of payment at the original selling price. View our complete return policy and/or start your return online here.