New Sherline Ball Screw Lathe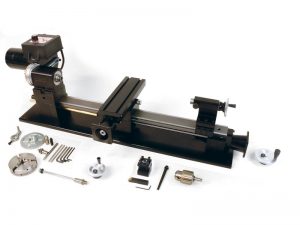 We decided to go with an entirely new design for our ball screw lathe. We feel that this design offers both improved structural strength and stability, and it allows us to have a centrally located ball screw under the lathe bed.
CLICK HERE to learn more about the CNC Ball Screw Lathe and the available configuration options.
Sherline Ball Screw Lathe Description
The lathe base is solid 5″ x 1/2″ plate 6061 aluminum. The increased width gives the machine a wider footprint, which increases the stability of the lathe. The base has (4) .257″ diameter mounting holes should you choose to secure the lathe to a work surface. The base also has (4) 10-32 tapped holes in the bottom if you decide to mount our rubber feet (P/N 87623) to the bottom.
The lathe base headstock and tailstock mounts are solid machined 6061 aluminum.
The lathe saddle ball-nut mount is also made from 6061 aluminum. This saddle is the same box design we use on the Z-axis column on our ball screw mill. The ball nut mount is assembled to the lathe saddle with (6) 10-32 screws with the ball screw located directly beneath the lathe bed. The ball screw location will help keep the ball screw clean and allows the leadscrew force on the lathe saddle to be centered on the lathe saddle. The entire assembly is very rigid and true.
Our lathe saddle is also made from 6061 aluminum. The saddle is hard anodized for extended wear. We have incorporated internal oiling ports to keep the lathe bed dovetail areas lubricated.
Ball Leadscrew Specifications
Rolled Ball Screw with BSH Nut
10mm Diameter, 2mm Lead
C7 Accuracy*, P1 Preload
*C7 accuracy has a linear tolerance of 50 micrometers / 300mm or .002″ / 12.0″.
The ball screws are only available in metric, so the numeric graduations on the handwheel dials are 2mm per revolution and .02mm per line.
We upgraded our crosslide from our standard 6″ crosslide to our thicker 8″ crosslide. You also have the option to upgrade to our P/N 67050 13″ mill table.
The ball screw mounts and couplers are the same that we use on our ball screw mills. They have been beefed up to take the additional force that our new high-torque stepper motors put out (P/N 67126).
Our base machine comes with our standard headstock and motor (P/N 3306). You can upgrade to any of our headstocks to fit your needs, like the ER-16 or the 3C collet headstocks.
Our base machine is CNC-ready. You choose between our standard or the high-torque stepper motors that you want.
You can also add the controller of your choice: Select from our new MASSO CNC controller or our LinuxCNC PC.