Product Description
About the Sherline High-Torque Stepper Motors
Our high-torque stepper motor has the same NEMA #23 frame as our standard stepper motor, but it has over 75% more torque. The Max "Rapid Feed" will not change. Your cutting feed rate can be increased because you will be using a stepper motor that has higher torque. It is also better suited to handle the additional weight of the motor and headstock on our Z-axis.
ATTENTION: This new high-torque stepper motor required that we change the CNC coupling to handle the added load. If you are upgrading an older CNC machine that uses the old coupler (P/N 67105) to use the high-torque stepper motors, please see the link below for P/N 671052 (sold separately).
Plug-and-Play Upgrade
The high-torque stepper motors can also be used on any Sherline CNC machine. The motor is 2 amps, just like our standard motors, so you can easily upgrade your current Sherline system with the new high-torque motors. (For example, Sherline Complete CNC systems or P/N 8760 CNC 4-axis driver box kit.)
NOTE: Referenced upgrades apply only to Sherline products.
Shafts and Flats
Sherline stepper motors have shafts at both ends so that a handwheel can be used for manual control if desired. Flats are ground onto each end of the shaft to accommodate set screws for handwheel and coupling. If a stepper motor is to be used with a Sherline motor mount, the shaft going into the coupling should have a flat machined or ground on it where the set screw bites into it. If this is not done, the point of the set screw can upset the shaft surface sufficiently to make it impossible to remove the coupling. For non-Sherline applications, the flat may not be necessary.
Powerful dual-shaft motors are prewired for quick hookup
Stepper motors have six wire leads pre-wired in a connector that plugs directly into the Sherline linear or rotary controller.
Both the complete CNC system and the P/N 8760 driver box come with 4 cables pre-wired with a 5-pin plug. These match the plugs on the P/N 67127 stepper motors sold by Sherline. To hook up the system all you do is plug each stepper motor into the cable for the proper axis. It couldn't get much easier than that.
Frame size
NEMA #23
Shaft
1/4″ diameter, dual shafts
Holding Torque
1.35 N.m (Newton meters)
13.756 kg-cm (kilogram centimeter)
191.17 oz/in (ounce inch)
11.948 in/lb (inch pound)
Maximum RPM
530 RPM
Axial-Force
Fa=15 N Max., or 3.37 lbf Max.
Radial-Force
Fr=75 N Max., or 16.86 lbf Max.
Rotor inertia
480 g-cm2
Voltage
4.5 V DC
Current
2 A
Step Angle
1.8° (200 steps/rev)
---
Download PDF Specification Sheet
Video instructions on how to remove and install Sherline CNC Stepper Motors

Installing Stepper Motors
Aligning the Stepper Motor to the Ball Screw
Related products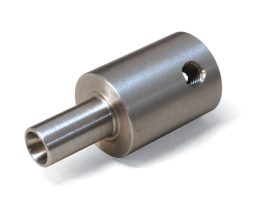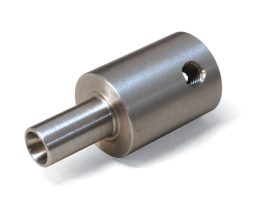 CNC Coupling
The CNC coupling is used to connect the stepper motor shaft to the CNC leadscrew. It is used with our standard stepper motors as well as the high-torque stepper motors.
$

14.56
-
Add to cart