Mill CNC Kit with High-Torque Stepper Motors
-
Product Description
If you wish to purchase a Sherline CNC mill, but you want to use your own computer and software instead of Sherline's computer with pre-loaded Linux/EMC software, this package makes it easier. Here's what you do:
Order the CNC-ready mill of your choice.
Order this kit (4-axis driver box and connecting cables plus power supply and 3 high-torque stepper motors). The high-torque stepper motor has the same NEMA #23 frame as our standard stepper motor, but it has over 75% more torque. For more information on the high-torque stepper motors  CLICK HERE.
Supply your own computer, monitor, and control software.
This kit includes Sherline's 4-axis driver box and power supply plus three high-torque stepper motors. Plug the 25-pin parallel cable (included) from the driver box to the printer port of your computer. Attach the stepper motors to the stepper motor mounts on the on the X, Y and Z axes of your Sherline CNC-ready mill and plug the X, Y and Z cables from the driver box to the stepper motors. Once you select and install your own control software, you are ready to go. If you want to add a 4th axis rotary table, purchase rotary table with stepper motor and plug it to axis A.
ATTENTION: This new high-torque stepper motor requires a special CNC coupling (sold separately)

NOTE: If you want a complete plug-and-play system with a lathe or mill, computer, and driver ready to run, see the complete CNC systems listed elsewhere on this site.
Included Components
Driver box with 4 motor cables
3.7 amp, 24-volt power supply with cord
25-pin parallel cable*
2 CD set with Linux/EMC2, utilities, and instructions
Two spare fuses
*NOTE: A 25-wire parallel port is required because EMC2 is designed to be capable of running up to six axes simultaneously. Even though the Sherline driver box only uses four of those axes at one time, a 2-wire serial USB port cannot transmit data to multiple axes fast enough for glitch-free CNC operation.
Minimum Computer Requirements
In order to install and run a Linux based system from the disc provided it is recommended the computer have at least the following minimum specifications:
Processor speed: 800 MHz or faster (Pentium III class or equivalent processor)
RAM: 512 Mb (Sherline provides 1 Gb)
Hard Drive: 20 Gb or larger
25-pin parallel port (printer port)
(Laptop computers are not recommended.)
For the most current information on hardware requirements for LinuxCNC/EMC2 see LinuxCNC Hardware Requirements
Driver box available for OEM
The Sherline driver box is available for manufacturers wishing to put together a CNC system of their own. Why reinvent the wheel? This box, along with Sherline's pre-wired stepper motors, makes it easy to put together a custom CNC package. Contact Sherline for details on our OEM quantity pricing. We have also left plenty of space on the top of the unit to laser engrave your logo and company information and can handle that for you in-house. In addition, OEM suppliers using our driver box will be provided a link and a 300-word description at no charge on a special page on our website to describe your product.
Linux vs. Windows
The software that comes with this package includes Linux and LinuxCNC (formerly EMC) on DVD-ROM. CLICK HERE to learn more about the advantages of Linux and how it compares to Windows. Please read this if you are unsure about your ability to install Linux yourself on your own computer.
For Windows® Users Only Now available for Window 10, 32b and 64b
Use your own laptop or desktop via the USB port with Sherline's CNC Controller. New from DPP Engineering is this new USB CNC to LPT motion controller. This product contains a microprocessor that simulates a complete CNC controller program and thus elevates the processing load from the host computer.
Visit discountcampus.com for more information.

The improper use of machine tools and their accessories can result in serious injury. Before using this tool, thoroughly read the instructions and make sure you understand its proper and safe use.

Always wear safety glasses when operating machine tools.

Download PDF 8760 Instructions

Download PDF 67126 Instructions
| | |
| --- | --- |
| Power Supply | Input: 100-240 VAC, 47-63 Hz, 3A (automatically adapts to incoming voltage) |
| | Output: 24 VDC, 4A |
| Parameters | Logic high levels should be greater than 2 volts. |
| | Logic low should be less than 1/2 volt. |
| | Step pulses are active low. |
| | Step pulses should be at least 22 microseconds long. |
| | The lines labeled as LinuxCNC inputs or outputs can be disregarded in other systems. |
| | For use with software other than LinuxCNC, make sure your software addresses the correct I/O lines for step and direction as shown below. Sherline is not able to provide assistance for other programs. For help with the LinuxCNC software, see www.linuxcnc.org/ |
| | We recommend at least an 800 MHz Pentium class computer or faster for use with the frequency mode. |
| | In operation, the power to the motors will be reduced to half current after 3 seconds of inactivity. This can be changed to 1/4 power with a jumper on H1. |
| DB25 pin out | 1 – Input from LinuxCNC (may be ignored in other systems) |
| | 2 – X Direction |
| | 3 – X Step |
| | 4 – Y Direction |
| | 5 – Y Step |
| | 6 – Z Direction |
| | 7 – Z Step |
| | 8 – A Direction |
| | 9 – A Step |
| | 10 – NC |
| | 11 – Output to LinuxCNC (may be ignored in other systems) |
| | 12 – Output to LinuxCNC, XYZ home (may be ignored in other systems) |
| | 13 – NC |
| | 14 – Input from LinuxCNC, C1 (may be ignored in other systems) |
| | 16 – Input from LinuxCNC, C2 (may be ignored in other systems) |
| | 17 – NC |
| | 18-25 – Ground. |
| Headers on PC board | H1 – Will reduce current to 1/4 after 3 seconds |
| | H2 – Unimplemented H3 – Will remove power from drivers immediately (panic stop) |
| | RESET – Will hold the drivers in reset condition |
| Motor Connectors | 5-pin DIN male |
| | Five to 30 volts (better performance at higher voltage) |
| | 2 amp unipolar configuration |
| | 800 steps per revolution (microstepping), equates to 16,000 steps/inch with .050″ pitch leadscrew |
| | |
| --- | --- |
| 67126 | (3) High-Torque Stepper Motor Assembly w/Flat & Plug Assembly |
| 8760 | CNC Driver Unit |
Related products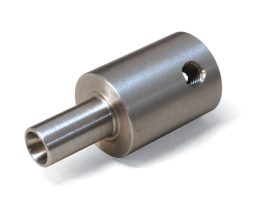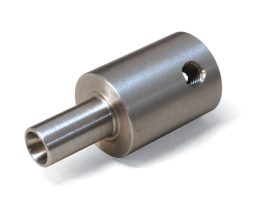 CNC Coupling
The CNC coupling is used to connect the stepper motor shaft to the CNC leadscrew. It is used with our standard stepper motors as well as the high-torque stepper motors.
$

14.56
-
Add to cart