14″ Linux CNC Benchtop Mill System w/Ball Screws
Product Description
About the 14″ CNC Mill System with Ball Screws
This machine is based on our 14″ 2000-series mill. The 14″ mill base with ball screws comes with all new saddles developed for the ball screws. The X/Y-mill saddle has been beefed up to accommodate the larger ball screws, and it has an electroless nickel/Teflon coating. This coating offers a hard surface that is rustproof, while the Teflon provides a friction coefficient of .1-.2u for smoother movement of the saddle and the table.
The new ball screw design for the column saddle reduces the overall Z-axis travel by 1.4″. Because the ball nut does not allow the column saddle to move down as far as the old style column saddle, we recommend upgrading to the 15″ mill column. This will allow you to move the headstock closer to the top of the mill table. However, you will still lose 1.4″ of overall travel in the Z-axis.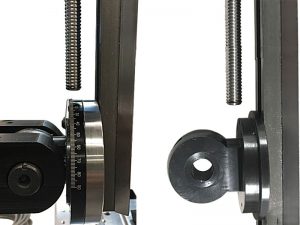 The Z-axis column bed on the 14″ ball screw mill is mounted directly to the swing arm with an arm mount, unlike the 2000 Deluxe mill that utilizes a movable clamping disk. This effectively eliminates the side-to-side rotational axis of the column bed.
The Axes of Movement of a Sherline 14″ Ball Screw Mill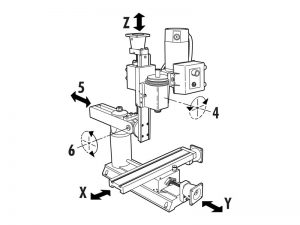 The table left/right movement is referred to as the X-axis. The table in/out movement is the Y-axis. Headstock up/down movement is referred to as the Z axis. The headstock can also be rotated on its saddle on Sherline mills (#4), the column ram can be moved in and out (#5), and the Z-axis column can be tilted forward and back (#6).
Ball Leadscrew Specifications
Rolled Ball Screw with BSH Nut
10mm Diameter, 2mm Lead
C7 Accuracy*, P1 Preload
*C7 accuracy has a linear tolerance of 50 micrometers / 300mm or .002″ / 12.0″.
The 86820 CNC Package Includes:
14″ mill fitted ball screws and all new saddles developed for the ball screws.
3 High-Torque Stepper motors with couplings and mounts.
A computer with 4-Axis Drive Box and Ubuntu Linux-based OS with LinuxCNC software preinstalled
Keyboard and mouse
Computer cables to the X-, Y-, and Z-axes are 69″ in length
Instruction and utility CD. The CD includes complete instructions, and several free utilities to translate CAD files or TrueType fonts into G-code.
A blank 4GB USB flash drive is also included
1-year warranty on all components for non-production use. 90-day warranty on CNC and computer-related components.
You supply only a monitor.
Standard equipment for the model 86820 CNC Mill includes:
14″ base
Electroless nickel/Teflon coated mill saddle
13.0″ (330 mm) x 2.75″ (70 mm) table with two T-slots
11″ standard mill column bed (Option to upgrade to a 15″ mill column bed with nickel/Teflon coating is available)
Stepper-motor mounts with high-torque couplings
The handwheels are included and can be mounted to the end of the stepper motors to maintain manual control when needed.* 2-1/2″ (63mm) adjustable "zero" handwheel on the Z-axis and 2″ (51mm) adjustable "zero" handwheels on the X- and Y-axes. Each handwheel has laser engraved aluminum handwheel collars
*NOTE: CNC-ready machines cannot be operated manually unless double-shaft stepper motors are installed.
¼" Drill Chuck w/ key, #1 Morse arbor with drawbolt
Pulleys, drive belt, three hexagonal keys, spindle bars, gib removal tool, eight-foot three-wire power cord, and instruction manual
Oil reservoirs on the X/Y axes and the Z-axis to help keep critical parts lubricated.
Brass leadscrew cover that keeps chips off the rear of the Y-axis leadscrew
Accordion way cover
Max clearance
(table to spindle)
6.875″ (176 mm)
Throat
(no spacer)
2.25″ (50 mm)
Throat
(w/ headstock spacer)
3.50″ (90 mm)
Travel, "X" Axis
7.8" (198.1mm)
Travel, "Y" Axis
5.00″ (127mm)
Travel, "Z" Axis
Standard 11″ bed: 4.85″ (123mm); Optional 15″ bed 8.85″ (225mm)
Hole through spindle
.405″ (10 mm)
Spindle nose thread
3/4″-16 T.P.I.
Spindle nose taper
#1 Morse
Spindle runout of Morse taper
.0005″ or less
Handwheel graduations
.02 mm
Electronically controlled spindle speed range
70 to 2800 RPM
Width Overall*
14.75″ (375 mm)
Depth Overall*
Base footprint: 13.75″ (379 mm); With fully extended brass leadscrew cover: 16.75 (425.50 mm)
Height Overall (Max.)*
Standard 11″ bed: 20.75″ (498.5 mm); Optional 15″ bed: 24.75″ (600 mm)
Table size
2.75″ x 13.00″ (70 x 330 mm)
Hold-down provision
2 T-Slots
Shipping Weight
60 lb. (28.2 kg)
Movements in addition
to X-, Y- and Z-axes
Headstock rotation (90° left/right)
Motor
90 volt DC with electronic speed control that accepts any incoming current from 100VAC to 240 VAC, 50 Hz or 60 Hz.
Click here for motor specifications
Spindle Speed Range
70-2800 RPM continuously variable by electronic speed control
*Overall dimensions include motor and speed control
Related products