3/8″ Gang-Tooling Tool Post
-
Tools not included, shown for reference only
Product Description
About the 3/8″ Gang-Tooling Tool Post
We designed our gang-tooling tool post specifically for our customers who want to convert their Sherline lathe into a "Chucker Lathe" or gang-tooling lathe. This tool post will also be the standard tool post that we will offer with our CNC Chucker Lathe.
Our gang-tooling tool post offers a convenient and accurate way to hold up to four tools with a known centerline-to-centerline distance of 1.500″. This tool post has (4) 3/8″ holes to hold boring bars, drill chucks, or tool bushings with two locking screws for each tool.
We also offer a tool holder for customers who want to use ER16 collet holders with a 5/8″ shank.
For video instructions on "Indicating in Your Gang-Tooling Tool Post," click on the Video tab above, or visit our Videos page.
Includes the following:
3/8″ Gang-Tool Post Body
10-32 x 1″ SHCS (3)
Extended Tool-Post T-Nut (3)
10-32 x 3/4″ SHCS (8)
#10 Washer (3)
Steel Dowel Pin 1/4″ x 3/4″ (2)
Considerations Regarding this Tool Post and Its Possible End Uses
There are many considerations regarding this tool post and its possible end uses. Please check the instructions for a complete list (click on the Instructions tab above to download the document). This tool post is designed to be used with our 13″ Mill Table in place of the lathe crosslide. Other recommended optional equipment includes Riser Plate in order for your tools to be on center-line with the headstock spindle.
NOTE: While the gang-tooling tool post will mount on the 6″ and 8″ crosslides, its size renders it unusable on either of these crosslides.
Available Gang Tool Posts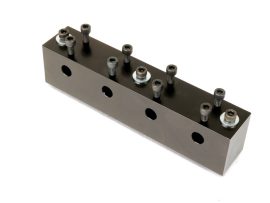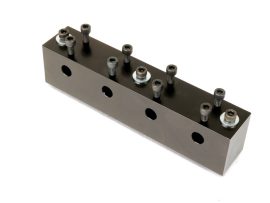 | | |
| --- | --- |
| The improper use of machine tools and their accessories can result in serious injury. Before using this tool, thoroughly read the instructions and make sure you understand its proper and safe use. | Always wear safety glasses when operating machine tools. |
---
Download PDF 5930 Instructions
Indicating in your Sherline Gang-Tooling Tool Post
| | |
| --- | --- |
| Insert Holder Tool Post | |
| Tool Post Body Material | Aluminum |
| Body Coating | Black Anodized |
| Body Dimensions (H x W X D) | 1.4375″ x 6.25″ x 1.1875″ |
| Tool Holes | 1.5″ between centers |
| Part No. | Description | Quantity |
| --- | --- | --- |
| 59301 | 3/8″ Gang-Tool Post Body | 1 |
| 40340 | 10-32 x 1″ SHC Screw | 3 |
| 40250 | Extended Tool-Post T-Nut | 3 |
| 40690 | 10-32 x 3/4″ SHC Screw | 8 |
| 40660 | #10 Washer | 3 |
| 59303 | Steel Dowel Pin 1/4″ x 3/4″ | 2 |
Related products