Product Description
About the Threading/Grooving Insert Tool Holder
Sherline now manufactures its own inserted tip threading and grooving holder. Because of the multiple uses and the cost of the inserts, the holder is sold separately with no inserts included. You choose which inserts you need and order them separately. A special clamp, 6-32 hold-down screw and 7/64″ hex key are included with the holder.
About the Cutter Inserts (not included)
The primary method of cutting metal on miniature machine tools is usually with high speed steel tools as they are inexpensive, easily resharpened and can be ground into "form" tools for special jobs. However, inserted tip tools can be lifesavers for some jobs. This is why they find a lot of use in the modern professional machine shop.
The .031″ grooving insert has a cutting depth of 1/16″. In addition to grooving, it makes an excellent parting tool for micro-machining on parts up to 1/8″ in diameter. The .062″ grooving insert has a cutting depth of 1/8″, so it can also be used to part off stock up to 1/4″ in diameter.
CAUTION: Chips coming off the carbide inserts can be very HOT! Use extreme caution. Carbide inserts can also shatter. For these reasons proper protective eyewear and clothing is especially important when using these tools.
Some materials like tool steel tend to build up a long, thin chip that wraps around the spinning part like steel wool. Use a chip brush or stop occasionally to remove this material often. Note that red hot chips can cause this "bird's nest" clump of material to burn. Clean up often to keep the pile of chips to a minimum near the cutter.
| | |
| --- | --- |
| The improper use of machine tools and their accessories can result in serious injury. Before using this tool, thoroughly read the instructions and make sure you understand its proper and safe use. | Always wear safety glasses when operating machine tools. |
---
Download PDF Using Carbide Inserted Tip Tools Instructions
Insert Holder Material
Case Hardened Steel
Body Coating
Black Oxide
| | |
| --- | --- |
| 22671 | Insert Holder Body |
| 22672 | Holder Clamp |
| 22673 | 6-32 x 1/2″ SKT HD Cap Screw |
| 89076 | 7/64″ Hex Key |
Related products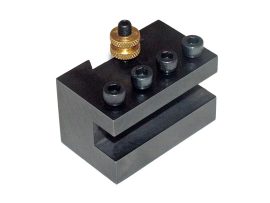 Carbide Inserts (thread, groove)
These Carbide inserts are used in the Insert Tool Holder and can do a couple of tasks. Use the 60° threading insert for cutting outside threads. When cutting grooves, you can use the .031″ insert to cut a .031″ wide groove, … Continued
$25.25
Select options