Product Description
About the Threading/Grooving Insert Tool Holder
Sherline now manufactures its own inserted tip threading and grooving holder. Because of the multiple uses and the cost of the inserts, the holder is sold separately with no inserts included. You choose which inserts you need and order them separately. A special clamp, 6-32 hold-down screw, and 7/64″ hex key are included with the holder.
About the Cutter Inserts (not included)
The primary method of cutting metal on miniature machine tools is usually with high-speed steel tools, which are inexpensive, easily resharpened, and can be ground into "form" tools for special jobs. However, inserted tip tools can be lifesavers for some jobs. This is why they find a lot of use in the modern professional machine shop.

The .031″ grooving insert has a cutting depth of 1/16″. In addition to grooving, it makes an excellent parting tool for micro-machining on parts up to 1/8″ in diameter. The .062″ grooving insert has a cutting depth of 1/8″, so it can also be used to part off stock up to 1/4″ in diameter.
CLICK HERE to link to the Carbide Cutter Inserts.
ATTENTION CUSTOMERS! July 8, 2020
It has come to our attention that there may be issues with some of our Threading/Grooving Carbide Insert Tool Holders (P/N 2267) not securely clamping the cutting inserts.
The problem is when the clamp is tightened, the inside corner makes contact with the step next to the holder insert pocket. This prevents the clamp from making full contact with the clamping notch in the top of the insert. We used to buy these clamps, but they are no longer available, so we started making them in-house. We initially designed them with symmetrical angle cuts on each side of the clamp nose, but they should not be the same. We have since changed the inside angle.
Solution: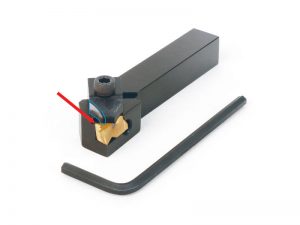 To get up and going right now, if you have a bench grinder or file, grind the backside of the clamp (circled in blue in the picture) until the tip of the clamp clears the step (shown by the red arrow). Then the clamp will lock the insert in place as it should.
Only about a dozen defective clamps were shipped. Contact us immediately if you received one of these clamps. We will replace any clamps, free of charge, that are found to be defective.
CAUTION: Chips coming off the carbide inserts can be very HOT! Use extreme caution. Carbide inserts can also shatter. For these reasons, proper protective eyewear and clothing are especially important when using these tools.
Some materials like tool steel tend to build up a long, thin chip that wraps around the spinning part like steel wool. Use a chip brush often or occasionally stop to remove this material. Note that red hot chips can cause this "bird's nest" clump of material to burn. Clean up often to keep the pile of chips to a minimum near the cutter.