Bump Knurl Tool Holder
Select a knurl tool option in the drop-down menus (knurls are not included in the tool price).
Product Description
About the Bump Knurl Tool Holder
Our bump knurl holder was designed primarily so customers who have CNC machines could add a knurling operation to their program, but it can also be used on a manual lathe. This holder is the same style that is used on full-sized CNC machines. It is held in position using the 3/8″ Insert Holder Tool Post (P/N 7600, not included).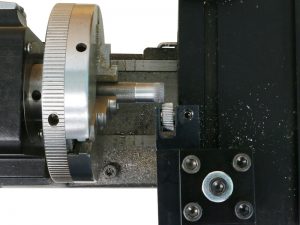 P/N 2275 Bump Knurl Tool Holder shown engaged with a part.

Knurl size limitations with the Bump Knurl Tool
There are limitations to the knurl size and method of holding your part: Knurls from 40 TPI (threads per inch) and higher will work well on our machine. Coarser knurls from 32 TPI and lower will not work well. The exception to the rule is the diamond knurl. Because the diamond knurl is a male pattern, it can cut a larger TPI, so the 25 TPI that we offer is fine.
The bump knurl tool will handle stock diameters up to 1/2″ (12.5 mm), while it is turned in the lathe, creating a knurled pattern.
NOTE: The knurling tool was not designed for use with riser blocks.
Other size knurls for spiral, straight, or diamond patterns are also available.
Select the knurl(s) of your choice in the drop-down menu above.*
*NOTE: Each knurl is an additional cost.

Bump Knurling Tool demonstrated by guest craftsman, Jerry Kieffer
| | |
| --- | --- |
| Body Material | 6061 T6 Aluminum |
| Body Coating | Black Anodized |
| Knurling Wheel Material | High Speed Steel |
| Max Diameter Knurling Capacity | 1″ (25mm) |
| Part No. | Description | Quantity |
| --- | --- | --- |
| 22750 | Bump Knurl Holder Body | 1 |
| 36030 | .381 x .030 Washer (ID .190″) | 4 |
| 36040 | 3/16″ x 3/4″ Dowel Pin | 2 |
| 40520 | 10-32 x 3/16″ Cup Point Set Screw | 2 |
| 40570 | 3/32″ Hex Key (not shown) | 1 |
| | Knurling tool(s) of your choice (not included) | |