Carbide Tip RH 80° 3/8″ Boring Bar w/2 Flats
Includes Torx driver and 80° carbide insert
About the Insert Boring Bars with Two Flats
When we designed our gang-tooling tool post (P/N 5930), it was specifically for our customers who wanted to convert their Sherline lathe into a "Chucker Lathe" or gang-tooling lathe. Most of the parts to be manufactured on a chucker lathe are going to be in the range of 1/2″ (13mm) diameter or smaller. The distance between centers on our gang-tooling tool post is 1.5″ (38mm). With these part sizes and the spacing, we realized that our boring bars could be used as both boring bars and outside diameter turning tools.
We added a second flat to our standard boring bars* so they could be held with the insert face up or face down. This modification allows the right hand 80-degree and 55-degree boring bars to be used as boring tools on either the front or back side of the part (see Figure 1). Click on the Instructions tab above for more details on using the boring bars with two flats.
* NOTE: Standard 3/8″ boring bar part numbers: 2259 RH 55°, 2260 RH 80°, 2263 LH 55°, 2264 LH 80°
Consider the options and possibilities of using these boring bars as turning tools as well as boring bars. Also, consider using these boring bars with the insert face down to reduce chip buildup on top of the insert.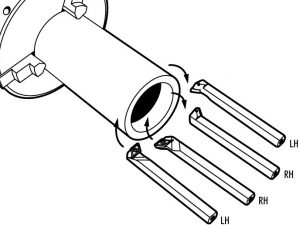 FIGURE 1—55° boring bars used as examples. The left-hand tools are used as turning tools, while the right-hand tools are used as boring tools.
About the Insert Boring Tool Holders
The 3/8″ diameter boring bars hold a carbide insert secured with a Torx screw. Each comes with 2-sided 805° carbide insert and Torx wrench. The 80° RH boring tool will fit into a 3/4″ starting hole. The 55° insert will cut into sharper corners, while the 80° holder offers a little more strength for roughing cuts. The 3-1/4″ long holder can bore a hole a little over 2″ deep with two fastening screws tightened on it. The holders are made from 1144 Stress-proof steel with a black oxide finish.
| | |
| --- | --- |
| The improper use of machine tools and their accessories can result in serious injury. Before using this tool, thoroughly read the instructions and make sure you understand its proper and safe use. | Always wear safety glasses when operating machine tools. |
---
Download PDF 2266 Instructions
| | |
| --- | --- |
| Insert Holder Material | 1144 Stressproof Steel |
| Body Coating | Black Oxide |
| Insert Material | Carbide |
| Part No. | Description | Quantity |
| --- | --- | --- |
| 22682 | 80° right-hand boring tool w/2 flats holder body | 1 |
| 7608 | 80° carbide insert | 1 |
| 76232 | Torx screw | 1 |
| 22580 | T7 Torx driver | 1 |
Shipping
We do not charge a flat rate for shipping because of the variations in weight for our products. Instead, we charge you what the shipping company charges us. Our website uses a shipping calculator based on the daily rates for USPS and UPS based on the weight and destination of the shipment. You can also have us use your UPS/FedEx account number to charge your shipping. Just enter it in the appropriate box on the checkout page.
Domestic orders are shipped Monday – Friday. Expedited orders must be placed by 9 am PST to ship the same day.
Orders shipping ground have a processing time of 7 working days for domestic orders and 14 working days for international orders. CLICK HERE for more information on our shipping and order policies.
Returns
Most merchandise can be returned within 30 days of the purchase date. A refund will be issued to the original form of payment at the original selling price. View our complete return policy and/or start your return online here.