Interchangeable Jaws
-
Master steel jaws (top left) accept top jaws made of (top, left to right) Delrin®, nylon, (middle row) Teflon®, brass, aluminum, and mild steel (12L14), (bottom row) tall jaws: 1″ aluminum and mild steel (1018), and 1.5″ aluminum and mild steel (1018).
Bottom Master Jaws are required in order to use Top Jaws
Product Description
About the Interchangeable Jaws
Certain delicate parts require gripping with softer jaw materials. Other operations require chuck jaws that do not transmit particles of rust to the part being held. To accommodate these special circumstances, Sherline now offers 2-piece chuck jaws with interchangeable top jaws made from special materials, and bottom master jaws*. In place of the standard hardened or optional unhardened ("soft") steel 1-piece jaws, these new top jaws are .600" tall and come in soft materials like Delrin, Teflon, and Nylon, plus harder but non-rusting materials like brass and aluminum. The replaceable top jaws are fastened to the hardened steel bottom jaws with two countersunk socket head screws. They are not stepped so the customer can machine them for custom holding applications. Other materials are available by request.
*Please note that you must purchase the bottom master jaws before you can use the top jaws.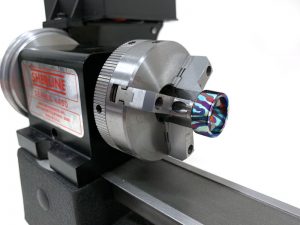 Tall Top Jaws
We also offer taller jaws with heights of 1" and 1-1/2". The tall jaws are made of aluminum and mild steel. These taller jaws were developed for a customer who uses our lathe for custom jewelry design and can be machined to hold custom work, as seen in the photo to the right.
About Top-Jaw Custom Orders
Click this LINK or the Top-Jaw Custom Orders tab above to design your own chuck jaws.
NOTE: To customers who are buying these jaws for an existing chuck, please measure the width of your current chuck jaws with a pair of mics so we can grind your master jaws to match. State your current jaw width in the comments box above. For first-time buyers who are buying a new chuck with these Master jaws, your jaws will be ground to match your chuck. The prices shown are for the jaws only (new chuck is not included).

Using the Reference Diagram for Custom Orders
Use the diagram below as a template for designing your custom jaws before filling out the form. These dimensions show the chuck jaw blank dimensions and the jaw position when the jaws are clamping a .032″ pin (the smallest pin possible).
In the customer example, we used a .330″ pin, so the .670″ diameter would clean up the entire jaw. If the jaws were closed down smaller, then the .670″ diameter would have cut into the mounting hole (see the Full-Radius Cut drawing compared to the Interrupted-Radius Cut drawing for reference).
Click this link for a downloadable, printable version of the diagram: Custom Chuck Jaws Sample Diagram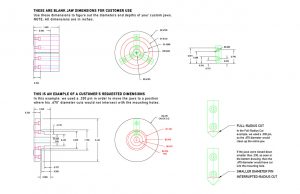 | | |
| --- | --- |
| The improper use of machine tools and their accessories can result in serious injury. Before using this tool, thoroughly read the instructions and make sure you understand its proper and safe use. | Always wear safety glasses when operating machine tools. |
| Download PDF 1141-1149 Instructions | |
| Top Jaw Height | Material |
| --- | --- |
| 0.6″ | Delrin®, Nylon, Teflon®, Brass, Aluminum, and Unhardened Steel |
| 1.0″ | Aluminum, Mild Steel |
| 1.5″ | Aluminum, Mild Steel |
Related products