Product Description
These tooling plates are designed to be mounted to the
Sherline 4″ CNC Rotary table
to hold parts that are being laser scanned. Each plate has a pattern of 10-32 threaded holes for use in holding fixtures to align parts for 3D laser scanning. A series of concentric circles are also machined into the face of the plate to aid in visual centering of the parts to be scanned. An access hole is provided that should be aligned with the oiler hole on the surface of the rotary table for lubrication. On the bottom of the table, an alignment protrusion is provided that helps center the plate on the counter-bored hole in the center of the rotary table. Four 10-32 socket head cap screws and T-nuts are provided with each plate for securing it to the T-slots on the rotary table's surface. The aluminum plates have a tough black anodized finish.
All three plates are shown here in one photo as a means of comparison. They come in sizes 8″, 10″, and 12″ in diameter. All are designed to be used on Sherline 4″ Rotary Tables.
Notes on the Use of the Plates
These plates are not intended for machining operations. A radial force at the outer diameter of the plate will exert more force on the rotary table worm, and worm gear for which the 4″ rotary table was designed. This plate was designed for laser scanning ONLY. Because the scanning plate is much larger than our 4″ rotary table, all parts that are mounted on the plate for scanning must be centered on the plate. Centering the part will locate the weight load in the middle of the rotary table.
Videos Available
Click on the Video tab above to view the scanning plates in operation.
Hole dimensions and locations on our scanner plates
Click on the images below for a larger view.
| | |
| --- | --- |
| The improper use of machine tools and their accessories can result in serious injury. Before using this tool, thoroughly read the instructions and make sure you understand its proper and safe use. | Always wear safety glasses when operating machine tools. |
---
Download PDF 3726-LAZ Instructions
Sherline Rotary Laser Scanning Table
Dimensions
12″ Diameter x 3/4″ High
10″ Diameter x 3/4″ High
8″ Diameter x 3/4″ High
Material
Aluminum
Body Coating
Black Anodized
| | |
| --- | --- |
| 37258 | 3D Laser Scanning Plate 8″ Blank |
| 372510 | 3D Laser Scanning Plate 10″ Blank |
| 372512 | 3D Laser Scanning Plate 12″ Blank |
| 40670 | (4) 10-32 X 1/2″ Skt Hd Cap Screw |
| 30561 | (4) T Nuts |
Related products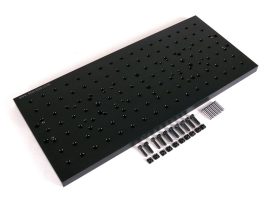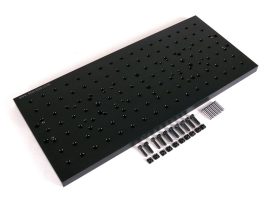 8″ x 18″ Laser Engraving Plate
8" x 18" Laser Engraving Plate The Laser Tooling Plate can be mounted to your own fixture, or it can be purchased along with a Sherline XY base with 18" table (P/N 6540LAZ./6541LAZ).
$

279.24
-
Add to cart