Product Description
One of the big advantages of having a lathe is being able to machine threads. Many threads can be cut using taps and dies, but having a tap and die set that will enable you to cut all the non-standard thread sizes would be quite expensive. Sherline offers a unique and versatile thread-cutting attachment for its lathe. This low-cost attachment enables you to machine thirty-six different unified thread pitches (Pitch range from 80 to 5 threads per inch) and twenty-eight different metric thread pitches (Pitch range from .25 to 2.0 mm). It also allows you to cut them as either left-hand or right-hand threads. A 60° carbide cutting tool is included, but a standard high-speed steel lathe tool can be ground to cut various thread forms on any pitch diameter you desire. This versatility enables you to machine any inside or outside, standard or non-standard thread you might desire as long as it is within the size limitations of the lathe.
NOTE: Lube up your gears well with light oil before using your threading attachment.
The attachment consists of:
15 aluminum gears
Mounting brackets
Engagement mechanism
4.00″ (102 mm) handwheel
Threads are generated on the Sherline lathe by gearing the spindle to the leadscrew. As the spindle is rotated with the handwheel mounted on the headstock spindle, the tool will advance an amount determined by the ratio of the gears. When the tool has completed its movement, you simply stop cranking, back up the tool and turn the spindle in the opposite direction until the tool is past its starting point. Then reset the tool and you're ready for the next pass. It's as simple as tapping! By using a 127-tooth gear (supplied), true metric threads can be cut on an inch (model 4000, 4500, or 4400) or true inch threads on a metric (model 4100, 4530, or 4410) lathe.
Gear Selection Calculator
This Sherline Thread Attachment Calculator comes to us via Joo Beng Koh of Singapore. He originally posted it to the Sherline Lathe & Mill Facebook Group, and he has graciously allowed us to post his calculator link to our website. The calculator automates the gear selection based on the desired thread count.
Here is his explanation and a link to the spreadsheet calculator: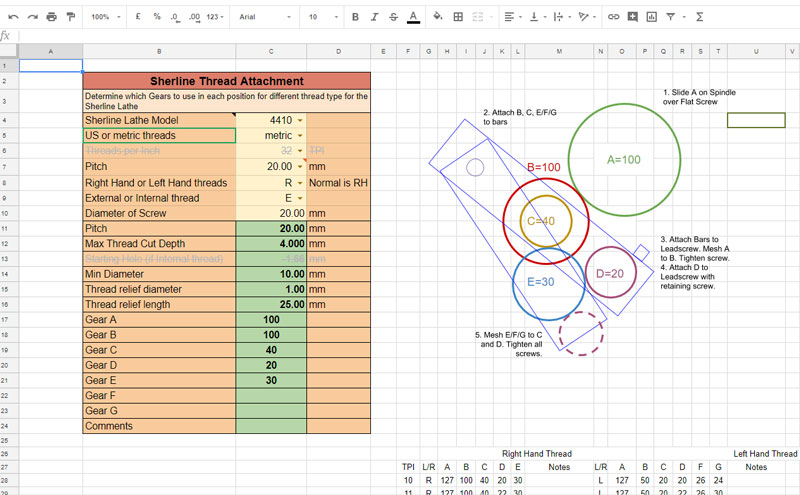 "I do use the Sherline Thread Attachment and found that it was quite tedious to set up the gears each time I wanted to cut threads. I didn't use it that often, and the threads I cut often changed from project to project. So I created a spreadsheet on Google Sheets to "automate" the selection of the correct gears for the threads I wanted to cut. So I thought I'd share the spreadsheet in case others can also benefit from it. I hope it's self-explanatory, but feedback to improve the sheet is certainly welcome. After selecting the parameters in light yellow, the "answers" will be shown in the green boxes. There is also an image on the right which shows which gears go where. There's also a step by step description on the image to install the gears in the correct sequence. It made my life a lot easier, so hopefully, it'll help some of you too!"
CLICK HERE for Joo Beng Koh's Sherline Thread Attachment Calculator.
More Calculators

Visit our Calculators page to download or link to other Gear Tooth and Thread Calculators. The page includes calculators for thread counts, helical gears, conversions, etc.
Adapting the Leadscrew Engagement Lever for Use with Digital Readout (DRO)
If you are using the leadscrew engagement lever with the Thread Cutting Attachment in conjunction with Digital Readout (DRO), you will need to adapt your lathe with the DRO sliding shaft (sold separately) so the leadscrew engagement shafts will properly engage the leadscrew.
| | |
| --- | --- |
| 31010 | Handwheel |
| 31020 | Primary Support Arm |
| 31030 | Secondary Support Arm |
| 31040 | Small Shim Washer |
| 31050 | Large Shim Washer (2) |
| 31060 | Gear Bushing (2) |
| 31070 | Gear Drive Pin |
| 31080 | 10/32 X 3/8″ Set Screw |
| 31090 | Sheet Metal Screw, Pan Head, No. 6 X 3/16″, Type A |
| 31100 | 100 Tooth Gear, 56 Pitch (W/ Notch) |
| 31110 | 100 Tooth Gear, 56 Pitch |
| 40340 | 10-32 X 1″ Skt Hd Cap Screw |
| 40510 | 10-32 X 3/8″ Skt Hd Cap Screw (3) |
| 40330 | 10-32 X 5/8″ Skt Hd Cap Screw |
| 40660 | No. 10 Washer |
| 31150 | Gear Shaft (2) |
| 31200 | 20 Tooth Gear, 24 Pitch (2) |
| 31220 | 22 Tooth Gear, 24 Pitch |
| 31240 | 24 Tooth Gear, 24 Pitch |
| 31260 | 26 Tooth Gear, 24 Pitch |
| 31270 | 127 Tooth Gear, 56 Pitch |
| 31280 | 28 Tooth Gear, 24 Pitch |
| 31300 | 30 Tooth Gear, 24 Pitch |
| 31320 | 32 Tooth Gear, 24 Pitch |
| 31340 | 34 Tooth Gear, 24 Pitch |
| 31360 | 36 Tooth Gear, 24 Pitch |
| 31380 | 38 Tooth Gear, 24 Pitch |
| 31400 | 40 Tooth Gear, 24 Pitch |
| 31500 | 50 Tooth Gear, 56 Pitch |
| 15090 | Sliding Shaft |
| 15410 | Sliding Shaft O-Ring |
| 15420 | Engagement Lever |
| 15430 | Fixed Shaft |
| 40900 | 10-32 x 3/8″ Flat Head Socket Screw |
Optional 24 Pitch gears are available for cutting odd numbers of T.P.I., where the last two numbers before the final zero(s) in the part number represent the number of gear teeth. Available are sizes 31210, 31230, 31250, 312700, 31290, 31310, 31330, 31350, 31370 and 31390.
Assembling the Thread Cutting Attachment
Using the Threading Cutting Attachment
Cutting Threads with the Compound Slide
Shipping
We do not charge a flat rate for shipping because of the variations in weight for our products. Instead we charge you what the shipping company charges us. Our website uses a shipping calculator based on the daily rates for USPS and UPS based on the weight and destination of the shipment. You can also have us use your UPS/FedEx account number to charge your shipping to. Just enter it in the appropriate box on the checkout page.
Domestic orders are shipped Monday – Friday. Expedited orders must be placed by 11 am PST to ship the same day.
Orders shipping ground have a processing time of 2-3 working days for domestic orders and 4-5 working days for international orders. Click here for more information on our shipping and order policies.
Returns
Most merchandise can be returned within 30 day of the purchase date. A refund will be issued to the original form of payment at the original selling price. View our complete return policy and/or start your return online here.
Related products