Product Description
This accessory is not meant to imply that you can part off large stock. Still, many people leave their riser blocks in place when doing operations on small diameter stock, and this accessory allows you to use the cutoff tool without removing the riser blocks. It is used on the backside of the part with the blade upside down to reduce "chatter." The extra-wide base adds to stability.
The use of a parting tool is not recommended for parts with a diameter of more than about 1″; however, Sherline is aware that many customers prefer to leave their riser blocks in place on the lathe at all times, even when turning smaller diameter stock. For this situation, we have somewhat reluctantly produced a riser block that allows the use of the standard cutoff tool holder (not included) by mounting it atop this riser block. (We say "reluctantly" because we do not wish to imply by providing a way to part off material with the riser blocks in place that it is intended for use on large diameter material. It is not.)
Mounting the Cutoff Riser Block to the Crosslide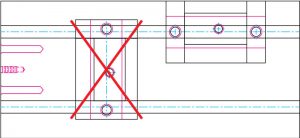 The riser block is designed to be mounted on one T-slot, as in the diagram to the right. This orientation offers more structural rigidity to the riser block and the clamping points that are in a direct line with the forces, which are exerted on the cutoff tool when it is in use.
Installing the Cutoff Blade
The blade is installed in the cutoff tool holder upside-down, and the riser and holder are installed on the backside of the part. Using a parting tool upside down on the back offers the additional advantage of having the chips fall from the cut with the assistance of gravity, allowing for better chip removal. Also, some prefer to leave the rear-mounted cutoff tool in place out of the way behind the part during other operations, keeping it handy for the parting operations. The use of this riser block still gives you the option of using the standard cutoff tool on the front side when the riser blocks are not in place.
| | |
| --- | --- |
| The improper use of machine tools and their accessories can result in serious injury. Before using this tool, thoroughly read the instructions and make sure you understand its proper and safe use. | Always wear safety glasses when operating machine tools. |
---
Download PDF 1296 Instructions
| | |
| --- | --- |
| Body Material | Aluminum |
| Body Coating | Black Anodized |
| Body Dimensions (H x W X D) | 2″ x 2″ x 1.25″ |
Related products