Product Description
In most machining conditions it is not necessary to achieve tool speeds faster than the 10,000 RPM that can be produced with the standard DC motor spindle with optional high-speed pulley set. However, for engraving and other applications where extremely small, pointed tools are used, higher speeds are required for good finishes and acceptable feed rates. This spindle is capable of speeds up to 54,000 RPM and will hold 1/8″ diameter cutting tools in its collet spindle. Allowable spindle runout is specified by the manufacturer to be 0.0011″ (0.03 mm). Three carbide tools with various cutter-face angles are provided with your engraving head along with 7 grinding tips.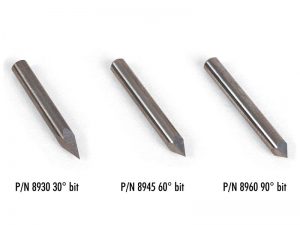 The high-speed spindle fits over the same mounting post on the mill saddle as the regular motorized headstock. An alignment key is provided for operation in the straight up and down position. The head can be angled by loosening the set screw that secures it to the mounting post, removing the spindle headstock, removing the alignment key from its slot and then replacing the spindle. The spindle can now be rotated to any position and held there by tightening the set screw against the mounting post.
The air spindle inserts through the longitudinal hole in the spindle body and is secured by tightening a single socket head screw. Speed is adjusted by rotating the chrome knurled ring near the top of the air spindle body.
PRECAUTION!
A carbide tool is being rotated at extremely high speeds. Should it shatter, pieces are flung outward at high speed. While eye protection is always recommended for any machining operation, good eye protection is absolutely imperative when using high-speed tools like this.
| | |
| --- | --- |
| The improper use of machine tools and their accessories can result in serious injury. Before using this tool, thoroughly read the instructions and make sure you understand its proper and safe use. | Always wear safety glasses when operating machine tools. |
---
Download PDF 8900 Instructions
| | |
| --- | --- |
| Spindle Speed | up to 54,000 RPM (adjustable) |
| Spindle Runout | 0.03 mm (0.0011″)k |
| Collet Size | 1/8″ |
| Maximum Air Pressure | 90 PSI (after break-in period at slower speed)k |
| Suggested Lubrication | SAE #10 oil at 2 drops per minute in lubricator fitting in air linek |
| Compressor HP | About a 1.5 horsepower compressor is required to supply sufficient air volume at 90 PSI. In order to run the spindle at full speed continuously, the compressor must produce a flow of at least 3 cubic feet per minute of air. |
| | |
| --- | --- |
| 40260 | Headstock Alignment Key |
| 40540 | 5/16-18 X 3/4″ Cone Point Set Screw |
| 40690 | 10-32 X 3/4″ SHC Screw |
| 89001 | High-speed Micro Air Grinder |
| 89010 | Engraving Headstock W/O Grinder |
| 89024 | Engraving Headstock Pivot Pin Tab |
| 89075 | 6-32 X 7/8″ SHC Screw |
| 89076 | 7/64″ Hex Key |
| 8930 | 1/8″ Carbide Engraving Bit, 30° |
| 8945 | 1/8″ Carbide Engraving Bit, 60° |
| 8960 | 1/8″ Carbide Engraving Bit, 90° |
Related products