Carbide Inserted-Tip Fly Cutter
-
Single-Flute Insert Fly Cutter includes T-15 Torx wrench and drawbolt (not shown).
Product Description
About the Carbide Inserted-Tip Fly Cutter
This single-flute fly cutter offers several advantages over the standard high-speed steel fly cutter. Inserted carbide tips will last much longer without sharpening, plus they provide an excellent finish on hard-to-machine materials like cold-rolled and stainless steel. The cutter path is 1-1/8″ (28.6mm) wide. The cutter shape allows it to cut a straight shoulder on a part… something that cannot be done with the standard fly cutter. Once you use this tool, you will understand why 80% or more of the metal removed in modern machine shops is removed with carbide insert tools.
This cutter has a #1 Morse tapered shaft and is held in the 3/4 x 16 headstock spindle with a drawbolt. The cutter comes with one 2-edged carbide insert, a Torx attachment screw, a T-15 Torx wrench, and a drawbolt with a washer. Additional inserts are available through Sherline as P/N 7622.
Learn more about the advantages of using inserted-tip carbide tools. See our instructions on Carbide Cutting Tool Inserts and Holders.
| | |
| --- | --- |
| The improper use of machine tools and their accessories can result in serious injury. Before using this tool, thoroughly read the instructions and make sure you understand its proper and safe use. | Always wear safety glasses when operating machine tools. |
---
Download PDF 7620 Instructions
| | |
| --- | --- |
| 30880 | Drawbar and washer |
| 76210 | Tool Holder Body (#1 Morse Taper Shaft) |
| 7622 | Carbide Insert |
| 76230 | Torx screw |
| 76240 | T-15 Driver |
Related products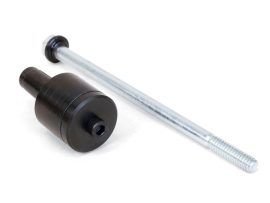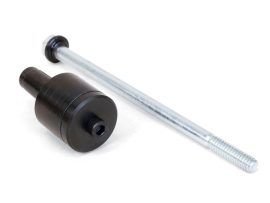 Slitting Saw Holder
About the Slitting Saw Holder Jeweler's slitting saws are small, circular, metal cutting saw blades that are used for machining thin slots. The Sherline slitting saw holder is designed to mount jeweler's slitting saw blades with 1/2″ diameter mounting holes. … Continued
$

43.68
-
Add to cart