18″ Benchtop Mill XYZ Base w/ Ball Screws _ CNC-Ready
-
Purpose of the Sherline Mill XYZ Bases
The Sherline ball screw mills can be purchased without the headstock and motor/speed control. This allows owners of other Sherline machines to swap the headstock and motor/speed control from one machine to the ball screw mill in approximately 60 seconds. This package offers a savings compared to the price of our full ball screw mills.
The Axes of Movement of a Sherline 6858 Ball Screw Mill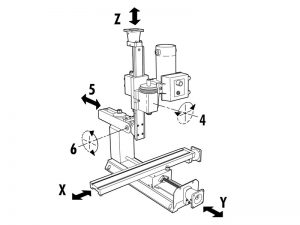 The table left/right movement is referred to as the X-axis. The table in/out movement is the Y-axis. Headstock up/down movement is referred to as the Z axis. The headstock can also be rotated on its saddle on Sherline mills (#4), the column ram can be moved in and out (#5), and the Z-axis column can be tilted forward and back (#6).
Standard equipment for the 685801 XYZ base:
18″ Mill Base
Electroless nickel/Teflon coated mill saddle
15″ Extended Column Bed with nickel/Teflon plating
Extra-Rigid Column Base
18″ Extended Mill Table
Stepper-motor mounts with high-torque couplings
The handwheels are included and can be mounted to the end of the stepper motors to maintain manual control when needed.* 2-1/2″ (63mm) adjustable "zero" handwheel on the Z-axis and 2″ (51mm) adjustable "zero" handwheels on the X- and Y-axes. Each handwheel has laser engraved aluminum handwheel collars
*NOTE: CNC-ready machines cannot be operated manually unless double-shaft stepper motors are installed.
Oil reservoirs on the X/Y axes and the Z-axis to help keep critical parts lubricated.
Brass leadscrew cover that keeps chips off the rear of the Y-axis leadscrew
Accordion way cover
Travel: X=13.65″ (347 mm), Y= 11.0″ (279 mm), Z=9.25″ (235 mm)
Travel, X-Axis
12.80″ (325.1mm)
Travel, Y-Axis
11.00″ (279 mm)
Travel, Z-Axis
9.25″ (235 mm)
Width Overall
20.375″ (518 mm)
Depth Overall
Base footprint: 21.125″ (537 mm); With fully extended brass leadscrew cover: 28.375″ (721 mm)
Height Overall (Max.)
26.5″ (673 mm)
Table size
2.75″ x 18.00″ (70 x 457 mm)
Hold-down provision
2 T-Slots (3 T-Slots with optional 7″ x 13″ tooling plate P/N 3562)
Movements in addition
to X-, Y- and Z-axes
Headstock rotation (90° left/right), Column pivot (90° Fwd/Bk), Column travel (In/Out) 5.5″ (140 mm)
Shipping Weight
72 lb. (32.73 kg)
For optimal performance, we recommend using the High-Torque Stepper Motors with our Ball Screws.