Purpose of the Sherline Mill XYZ Bases
The Sherline ball screw mills can be purchased without the headstock and motor/speed control. This allows owners of other Sherline machines to swap the headstock and motor/speed control from one machine to the ball screw mill in approximately 60 seconds. This package offers a savings compared to the price of our full ball screw mills.
The Axes of Movement of a Sherline 6858 Ball Screw Mill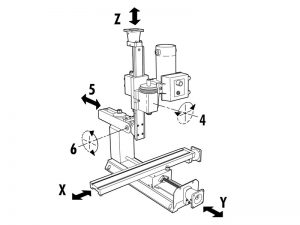 The table left/right movement is referred to as the X-axis. The table in/out movement is the Y-axis. Headstock up/down movement is referred to as the Z axis. The headstock can also be rotated on its saddle on Sherline mills (#4), the column ram can be moved in and out (#5), and the Z-axis column can be tilted forward and back (#6).
Standard equipment for the 685801 XYZ base:
18″ Mill Base
Electroless nickel/Teflon coated mill saddle
15″ Extended Column Bed with nickel/Teflon plating
Extra-Rigid Column Base
18″ Extended Mill Table
Stepper-motor mounts with high-torque couplings
The handwheels are included and can be mounted to the end of the stepper motors to maintain manual control when needed.* 2-1/2″ (63mm) adjustable "zero" handwheel on the Z-axis and 2″ (51mm) adjustable "zero" handwheels on the X- and Y-axes. Each handwheel has laser engraved aluminum handwheel collars
*NOTE: CNC-ready machines cannot be operated manually until stepper motors are installed.
Oil reservoirs on the X/Y axes and the Z-axis to help keep critical parts lubricated.
Brass leadscrew cover that keeps chips off the rear of the Y-axis leadscrew
Accordion way cover
Travel: X=13.65″ (347 mm), Y= 11.0″ (279 mm), Z=9.25″ (235 mm)
Travel, X-Axis
12.80″ (325.1mm)
Travel, Y-Axis
11.00″ (279 mm)
Travel, Z-Axis
9.25″ (235 mm)
Width Overall
20.375″ (518 mm)
Depth Overall
Base footprint: 21.125″ (537 mm); With fully extended brass leadscrew cover: 28.375″ (721 mm)
Height Overall (Max.)
26.5″ (673 mm)
Table size
2.75″ x 18.00″ (70 x 457 mm)
Hold-down provision
2 T-Slots (3 T-Slots with optional 7″ x 13″ tooling plate P/N 3562)
Movements in addition
to X-, Y- and Z-axes
Headstock rotation (90° left/right), Column pivot (90° Fwd/Bk), Column travel (In/Out) 5.5″ (140 mm)
Shipping Weight
72 lb. (32.73 kg)
Shipping
We do not charge a flat rate for shipping because of the variations in weight for our products. Instead, we charge you what the shipping company charges us. Our website uses a shipping calculator based on the daily rates for USPS and UPS based on the weight and destination of the shipment. You can also have us use your UPS/FedEx account number to charge your shipping. Just enter it in the appropriate box on the checkout page.
Domestic orders are shipped Monday – Friday. Expedited orders must be placed by 9 am PST to ship the same day.
Orders shipping ground have a processing time of 7 working days for domestic orders and 14 working days for international orders. CLICK HERE for more information on our shipping and order policies.
Returns
Most merchandise can be returned within 30 days of the purchase date. A refund will be issued to the original form of payment at the original selling price. View our complete return policy and/or start your return online here.
For optimal performance, we recommend using the High-Torque Stepper Motors with our Ball Screws.