About the Reverse Live Center with a concave nose
This live center was designed at the request of our model shipbuilder customers to turn their ship masts. It is designed to hold the outer diameter of the part, which is opposite of the standard live center that locates on a center hole in the middle of the part (See Figure 1 for the point dimensions).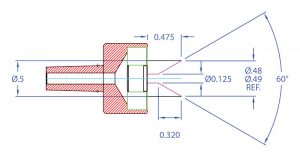 The center is ball-bearing mounted so that it can rotate with the part. This reduces wear and heat and makes machining much more pleasant. The sealed bearings are permanently lubricated and require no maintenance.
The live center point is supplied in either steel or hardened steel. You must request hardened or plain steel when you place your order.