Sherline CNC-ready milling machines can cut metal, wood, or plastic and come in two different sizes: tabletop (10″ and 12″ bases) and benchtop (14″ and 18″ bases). All milling machines are available in your choice of inch or metric calibrations. All our mills are made in the USA, and our customer service is second to none. Although our mills are small, they can produce high-quality precision parts. These CNC mills are tabletop-size machines with full-size machine precision and capacity.
CNC refers to Computer Numeric Controlled machines. CNC-ready mills are not turn-key machines and cannot be used until stepper motors have been installed. All mills that are described as "CNC-ready" have stepper motor mounts but do NOT include stepper motors, computer, or CNC software.
See our CNC Machining FAQs page for answers to the most common CNC questions.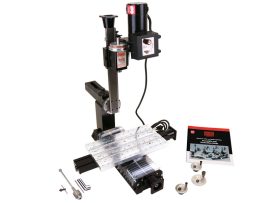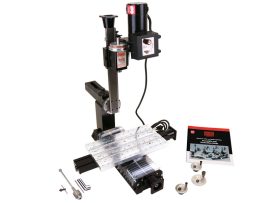 The MASSO G3 CNC controller, power supply, stepper motors, cable system and optical encoder are sold as a part of our Accu-Pro line of machines and are not available for purchase separately or as an upgrade option to existing machines.