ER-16 Collet Nut Spanner Set
3023 ER-16 Collet Nut Spanner Set
Product Description
About the ER-16 spanner set
The Sherline ER-16 Collet nut spanner set includes two wrenches. One has a pin that engages one of the holes in the Sherline spindle to keep it from turning while the nut is tightened. The other is a hex wrench that is sized to fit the special ER-16 nut (nut not included). This eliminates the need to come up with the proper size metric wrench and a Tommy bar when loosening or tightening the ER-16 collet nut. The pin tool provides better grip in your hand and better leverage than the Tommy bar. The tools themselves are cut from 1/4″ steel plate and have a tough black oxide coating to keep them from rusting.
The P/N 3023 is used to adjust the ER-16 collet nut on Sherline machines fitted with an ER-16 spindle.
| | |
| --- | --- |
| The improper use of machine tools and their accessories can result in serious injury. Before using this tool, thoroughly read the instructions and make sure you understand its proper and safe use. | Always wear safety glasses when operating machine tools. |
---
| P/N | SIZE | WEIGHT | PRICE |
| --- | --- | --- | --- |
| 3023 | Sherline ER-16 Collet Nut Spanner Set | 1 lb. | $30.00 |
Related products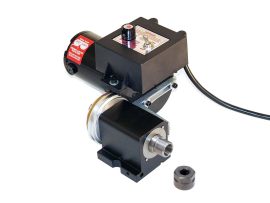 ER-16 Headstock and Motor Unit
The 3308 would replace the standard headstock, motor and speed control assembly that come on Sherline machines. The ER-16 nut that ships with your order may be plain or have a black oxide finish.
$

498.68
Add to cart