View cart
"Live Center" has been added to your cart.
Horological Milling Machine Bushing and Depthing Accessory
Product Description
About the Horological Milling Machine Bushing and Depthing Accessory
The idea for this accessory was given to us by Jerry Kieffer who is a long time Sherline user and Craftsman of the Year. The basic concept of this accessory is to use a small milling machine to do the job of several specialized clock and watch repair machines. With the Sherline mill, you can maneuver and align your clock and watch parts easily and accurately. You can also machine your parts more accurately in regards to the size and location of your bushing hole. When the machine work is done you can also use your milling machine as a manual press to insert your bushing.
This accessory also makes depthing easier and more precise, allowing you to locate your gear exactly where you want it. You can also check the gear mesh with the mating gear and then machine your bushing hole exactly where you want it to be. By using the Horological Bushing and Depthing Accessory in conjunction with your Sherline mill, you now have a three-in-one clock and watch repair machine that is also a fully functional milling machine.
Click photos for a larger view
The photo shows the depthing attachment on a 5400 mill. If you want to use it on a 5000-series mill you will need to add the headstock spacer block.
| | |
| --- | --- |
| The improper use of machine tools and their accessories can result in serious injury. Before using this tool, thoroughly read the instructions and make sure you understand its proper and safe use. | Always wear safety glasses when operating machine tools. |
---
Download PDF 2118 Instructions
| | |
| --- | --- |
| 21180 | Horological Bushing and Depthing Blocks (2) |
| 21181 | Horological Bushing Center Support |
| 11990 | Rocker Tool Post Centers (as clamp pieces) |
| 40330 | 10-32 X 5/8″ SHC Screw (4) |
| 40660 | #10 Washers (2) |
| 1286 | 10-32 X 2-1/4″ SHC Screw (2) |
| 40250 | Long T-Nuts (2) |
| 21183 | Spring, 1″ Long |
| 21184 | 1/4-20 X 6″ Hex Head Bolt |
| 40550 | 5/32″ Allen Hex Wrench |
| 3088B | 1/4″ Draw Bolt Washer |
The MASSO G3 CNC controller, power supply, stepper motors, cable system and optical encoder are sold as a part of our Accu-Pro line of machines and are not available for purchase separately or as an upgrade option to existing machines.
Related products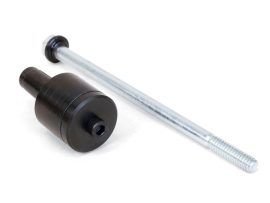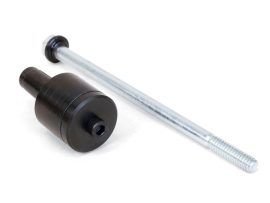 Slitting Saw Holder
About the Slitting Saw Holder Jeweler's slitting saws are small, circular, metal cutting saw blades that are used for machining thin slots. The Sherline slitting saw holder is designed to mount jeweler's slitting saw blades with 1/2″ diameter mounting holes. … Continued
$

43.68
Add to cart