Product Description
About the Vertical Machine Slide
The slides are manufactured from 6061-T6 aluminum and finished with a black anodized coating.
Leadscrews are precision rolled from steel, and table screws are located under the table, out of the way of chips. Leadscrew backlash is adjustable.
Dovetailed tables and saddles have adjustable gibs to eliminate play.
Handwheels are graduated in .001″ increments on inch slides and in .01 mm increments on metric slides.
Mounting the Vertical Slide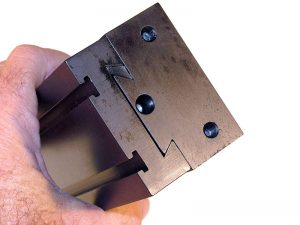 The Sherline 8″ vertical slide is mounted utilizing two 1/4-20 holes on the bottom of the base*. The holes are 2.0″ on centers. The base should be mounted so that the table overhangs the edge of the fixture. Travel is approximately 3″ (76.2 mm) or more, depending on how high your fixture is mounted above a parallel surface.
*NOTE: The base must be mounted to overhang what it is mounted on to achieve full travel. On a flat plate mount, the vertical travel will only be about 0.5″ to 1″.
Weight Capacity
Our slides' weight capacity is about 10 lbs. depending on where the weight is located and how long the table is.
Duty Cycle
Under heavy constant use, the dovetail area of the slide will start to show some wear on the anodize after one year (2080 hours). They are still fully functional at this point, but the anodized coating will begin to wear thin. The dovetail and the screw will last longer if you keep them lubricated with light oil*.
The leadscrews have a rolled thread which is hardened a bit by the rolling process. The backlash nuts are brass. The nut is the softer material, and therefore it is the part that wears out. The backlash nut is adjustable, so it can compensate for the wear until the threads are gone. You should get the same duty cycle (2080 hours) from the backlash nut before it will need to be adjusted or replaced.
*NOTE: Do not use WD40 as a lubricant on these slides. WD40 will remove the anodized coating from these parts!
| | |
| --- | --- |
| The improper use of machine tools and their accessories can result in serious injury. Before using this tool, thoroughly read the instructions and make sure you understand its proper and safe use. | Always wear safety glasses when operating machine tools. |
| Download PDF 6525 Instructions | |
| | |
| --- | --- |
| Table size | 2.75″ x 8″ (70 mm x 203 mm) |
| Table travel | 4.25″ (107 mm)* |
| Hold-down provision | 2 T-slots |
| Mounting provision | 2 holes 1/4-20 in the bottom of the base (Also available with through holes and T-nuts for mounting to slide table T-slots as Sherline accessory.) |
| Handwheel | 2″ laser engraved aluminum with two pre-loaded ball bearings |
*NOTE: The base must be mounted to overhang what it is mounted on for full travel to be achieved. On a flat plate mount, the vertical travel will only be about 0.5″ to 1″.
| Part No. | Description | Quantity |
| --- | --- | --- |
| 40310 | 5-40 x 1″ Skt Hd Cap Screw | 1 |
| 40520 | 10-32 x 3/16″ Cone Point Set Screw | 3 |
| 40730 | 10-32 x 2″ Skt Hd Cap Screw | 1 |
| 40820 | Gib Lock | 1 |
| 40890 | Crosslide Gib | 1 |
| 50140 (51140 Metric) | Anti-Backlash Nut | 1 |
| 50150 | Star Gear Lock | 1 |
| 50211 | Button Head Socket Screw | 1 |
| 60880 | 8″ Crosslide Table | 1 |
| 65503 | Industrial Milling Table Base | 1 |
| 67018 (670181 Metric) | Industrial Handwheel | 1 |
| 67019 | Industrial Handwheel Collar | 1 |
| 67211 (67220 Metric) | Slide Screw | 1 |
Click the P/Ns below to download a zipped version of the IGS 3D CAD file. You will need to extract the zip file before viewing the IGS file.
6525/6256 3D IGS model
You need an IGS viewer to view .igs files. CLICK HERE to download a FREE IGS viewer.
Shipping
We do not charge a flat rate for shipping because of the variations in weight for our products. Instead, we charge you what the shipping company charges us. Our website uses a shipping calculator based on the daily rates for USPS and UPS based on the weight and destination of the shipment. You can also have us use your UPS/FedEx account number to charge your shipping. Just enter it in the appropriate box on the checkout page.
Domestic orders are shipped Monday – Friday. Expedited orders must be placed by 9 am PST to ship the same day.
Orders shipping ground have a processing time of 7 working days for domestic orders and 14 working days for international orders. CLICK HERE for more information on our shipping and order policies.
Returns
Most merchandise can be returned within 30 days of the purchase date. A refund will be issued to the original form of payment at the original selling price. View our complete return policy and/or start your return online here.