About the Morse #1 Taper Tailstock for Pen Makers
We designed our Morse #1 tailstock to support our pen maker customers who use our lathes. Pen mandrels and the mandrel saver live centers come with either Morse #2 or #1 tapers on them. This tailstock will allow our customers to use the Morse #1 taper pen making accessories.
The Morse #1 Taper Tailstocks are available with standard handwheels or zero adjustable handwheels, in both inch and metric graduations.
Notes about the Morse #1 Taper Tailstock
We did not make this M#1 taper for larger size tailstock chucks. Our machine is not designed for these larger tools and the forces that they exert on the working parts of our machine.
The photo below shows the M#1 taper tailstock, designed for pen turning, mounted with a mandrel, a mandrel saver, and a live center. We do not sell the mandrel or live center for pen making.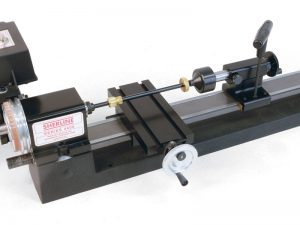 About the Laser-Engraved Spindle
The "0" line on the engraved scale on the tailstock spindle is located in the approximate area where the tailstock feed screw will push the Morse taper shank of an accessory out of the taper in the spindle.