Product Description
About Sherline Headstock and Motor Units
Sherline headstock/motor/speed control units have long been popular with tooling designers and home shop users making special tooling. Why reinvent the wheel when such a powerful, compact, and economical powered spindle already exists? Now we have expanded the capability of our spindle by offering a pulley ratio that makes possible spindle speeds of up to 10,000 RPM. It can be used as a stand-alone unit for custom spindle applications or in seconds it can replace the standard 2,800 RPM max spindle used on all Sherline lathes and milling machines.
A second pulley position provides a lower top speed but multiplies the power to provide more torque, particularly at low speeds. The maximum speed of 2,200 RPM approximates the speed of the standard pulley set provided with all Sherline machines.
NOTE: Because of the high-speed capability of this unit, the factory preload setting has been reduced from .0002″ of end play to .0003″ of end play. This allows higher speed and reduces bearing heating.
| | |
| --- | --- |
| Motor and Speed Control | ELECTRIC MOTOR SPECIFICATIONS FROM MANUFACTURER |
| Type of enclosure | Totally enclosed, non-vented |
| Duty rating | Continuous–10 oz. in. at 6100 rpm, .85 amperes; Intermittent–30 oz. in. at 5500 rpm, 1.75 amperes (5 minutes on / 15 minutes off) |
| Output horsepower | .06 KW (60 W) at 10 oz. in. / 6100 rpm |
| AC voltage (input) | Normally 115 VAC, 60 Hz, Single Phase to rectifier (Sherline electronic speed control converts any input from 100 VAC to 240 VAC, 50-60 Hz.) |
| DC voltage | 90V DC to motor (60 Hz) |
| Speed in rpm | 6100 rpm continuous |
| Class of insulation | Class A, 105° (C.) insulation system |
| Normal full load current | .85 amperes |
| Starting current | 1.7 amperes instantaneous starting current (<100 milliamperes). This is also stall current in True RMS |
| Max current at time of changeover from lower speed to higher speed | Depends on load |
| Type of motor | 3.00 inch (outer diameter) sub-fractional horsepower brush-type permanent magnet motor |
| Temperature rise at ambient 50° C. | Less than or equal to 45° C. |
| Motor frame size | 3 inches |
| End use of motor | Drive unit for lathe or mill |
If you are working with brass or wood, we suggest you use the
toggle switch dust cover
to protect the life of your motor & speed control.
Related products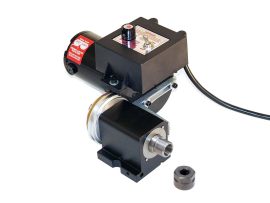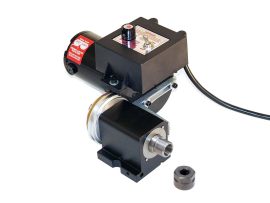 ER-16 Headstock and Motor Unit
The 3308 would replace the standard headstock, motor and speed control assembly that come on Sherline machines. The ER-16 nut that ships with your order may be plain or have a black oxide finish.
$

498.68
Add to cart