5th-Wheel Trailer Hitch Weight Scale
CAUTION: Do NOT store your scale on its side, or in temperatures under 32° F (0°C).
Product Description
About the 5th-Wheel Trailer Tongue Weight Scale
We made this scale at the request of several of our customers who own fifth-wheel trailers. This scale is a modified version of our original Trailer Tongue Weight Scale. However, it is specifically designed to attach to most fifth-wheel trailer hitches. The piston has also been modified to accept the standard 2-13/16″ diameter kingpin and the locating pin is for hitches that accept the standard 2-13/16″ kingpin.
The scale uses a simple hydraulic principle to convert pressure into a reading in pounds and kilograms on the gauge. No delicate electronics, no batteries, and only one moving part. It comes with a 5000 lb. gauge since 5th-wheel trailers typically carry a larger percentage of the overall weight on the hitch.
The scale is machined from solid billet steel and aluminum. It has a 3.25″ piston and body diameter, a 6″ square by 1″ thick aluminum base, and is about 6″ high. Actual weight is 11 lb. Gauge diameter is 2.75″. This scale comes with a one year guarantee.
All gauges have a dual-scale gauge that reads in pounds on the outside of the ring and the kilogram equivalent on the inside. This feature has been requested by many trailer users outside the USA and has now been incorporated into all the scales. The 0-5000 lb gauge reads to 2250 kg.
NOTE: When you receive your fifth-wheel trailer hitch weight scale, the "locator pin" will be screwed into the top of the base for ease of shipping and storing. Unscrew the locator pin and screw it into the center hole in the bottom of the base as seen in the photo above.
Storing Your Scale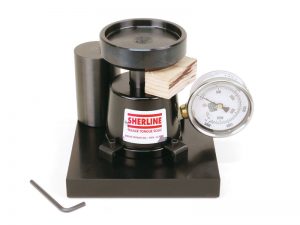 We strongly advise that you use a piece of wood (1/2″ thick) and place it between the piston head and body when your scale is not in use. This will help protect the seals from leaking over time.
CAUTION: Do NOT store your scale on its side, or in temperatures under 32° F (0°C).
Avoid Trailering Disaster!
If you tow a fifth-wheel trailer behind your truck or SUV and don't know for sure if the hitch weight is within the recommended range, you could be headed for a disaster. Too much weight and you could damage the hitch, causing fractures in the support frame and a catastrophic failure on the highway. Most fifth-wheel trailer hitches that are installed have a weight capacity that exceeds the weight of the trailer. Where most people get into trouble is when their toys start to get bigger or their load increases as their trip around the states continues. The trailer and load that you started with were fine. It's the load that you end up with that becomes the problem. So, how can you be sure that you don't have excessive weight on your hitch?
To properly load and balance a trailer you must KNOW what your king pin weight is, and the Sherline fifth-wheel trailer hitch weight scale offers an easy and inexpensive way to find out.
Trailer Towing Guides and Tales
Click on the Instructions tab above to download our Towing Guide, Care and Tips sheet, Part Replacement Instructions, and cautionary tales of true trailer disasters.
Customer Review of 5th-Wheel Trailer Scale
This is AWESOME for Owners of Fifth Wheel RVs and Goosenecks! Sherline Products Scale!
This Is How Trailer Weight Distribution Dynamics Work
This is why loading your trailer correctly is important. This visual is far better than it can ever be explained in words.
Height
6″ (15.24 cm)
Height w/ locater pin
9.125″ (23.2 cm)
Body diameter
3.25″ (8.3 cm)
Base dimensions
6.0″ x 6.0″ x 1.0″(15.2 cm x 15.2 cm x 2.54 cm)
Max. width at gauge
7.5″ (19.1 cm)
Actual weight
11 lb (5.0 kg)
Shipping weight
TBD lb (TBD kg)
Gauge diameter
2.75″ (7 cm)
Gauge scale range
Outer Scale: 0-5000 lb = Numbers @ 1000 lb, marks @ 100 lb. increments (Inner Scale: 0-2250 kg)
Hydraulic Fluid installed at factory
Texaco Regal R&O 68 industrial (turbine) oil
NOTE: Virtually any motor oil, hydraulic fluid or hydraulic jack oil can be used to replace lost fluid or to refill.
We offer two types of 3D object files: .igs and .stp.
To view .igs files you need an IGS viewer. CLICK HERE to download a FREE IGS viewer.
To view .stp files you need an STP viewer. CLICK HERE to use Autodesk's FREE A360* online file viewer. STP is a file extension for a 3-D graphic file used by CAD software. STP stands for STandard for the Exchange of Product model data. STP files are used to store 3D image data in an ASCII format, following the standards defined in ISO 10303-21: Clear Text Encoding of the Exchange Structure.
Each 3D file format has been compressed into a .zip file to save file space. Click on the .zip file link below to download it to your computer.
Extract the .zip file to the drive location of your choice.
Open the .igs file using the IGS Viewer, or open the .stp file using the A360 Autodesk online viewer.
*NOTE: There are also other free STP viewers that can be downloaded directly to your computer.
CLICK HERE to download the 3D IGS file
CLICK HERE to download the 3D STP file
Shipping
We do not charge a flat rate for shipping because of the variations in weight for our products. Instead we charge you what the shipping company charges us. Our website uses a shipping calculator based on the daily rates for USPS and UPS based on the weight and destination of the shipment. You can also have us use your UPS/FedEx account number to charge your shipping to. Just enter it in the appropriate box on the checkout page.
Domestic orders are shipped Monday – Friday. Expedited orders must be placed by 9 am PST to ship the same day.
Orders shipping ground have a processing time of 7 working days for domestic orders and 14 working days for international orders. Click here for more information on our shipping and order policies.
Returns
Most merchandise can be returned within 30 day of the purchase date. A refund will be issued to the original form of payment at the original selling price. View our complete return policy and/or start your return online here.