3C Collet Headstock
Includes 1″ spindle wrench and spindle bar (chuck arbor and collet not included, shown for reference only)
Product Description
About the 3C Collet Headstock
As with many of our accessories and machine modifications, our decision to make a 3C Collet Headstock was based on customers' requests. Over the years, many of our customers have requested a spindle and collet that would allow larger diameter stock to go through the headstock. With the 3C collet, our customers can now hold stock up to 1/2″ diameter that will pass through the headstock.
When we designed our 3C Collet Headstock, we also designed it to be interchangeable with our standard headstock. The centerline height is the same. The mounting system is the same. Therefore you can easily switch from any of our other headstocks to the 3C headstock.
The 3C Spindle is electroless nickel plated to aid in rust prevention and increase the spindle's surface hardness for durability.
We made the 1″ spindle wrench to go with the headstock to tighten and loosen the collets. The wrench is in a size range that will allow you to exert sufficient force without exerting excessive force. It is also in a size range that will make it easier to handle (than a standard 1″ wrench) when you are tightening and loosening the collet. Also included is a "Tommy" bar that you insert into one of the "Tommy" bar holes on the 3C headstock draw-bar knob. This is to aid in tightening and loosening the 3C collet.
If you wish to use a chuck with the 3C headstock, you can purchase the 3C to ¾-16 chuck arbor. All of our 3- and 4-aw chucks with a ¾-16 thread will fit on this arbor.
When it comes to making the 3C collets, we can't compete with the cheap import collets, and companies like Hardinge already make quality 3C collets in many sizes. Therefore, we leave it up to you to decide who you want to buy your collets from.
NOTE: Certain attachments, like the Thread Cutting Attachment, the Lathe Power Feed, and the 10,000 RPM Pulley Set will NOT work on with the 3C Collet Headstock. If you are uncertain if an accessory will work with the 3C Collet Headstock, please call for more information.
| | |
| --- | --- |
| The improper use of machine tools and their accessories can result in serious injury. Before using this tool, thoroughly read the instructions and make sure you understand its proper and safe use. | Always wear safety glasses when operating machine tools. |
---
Download PDF 30113 Instructions
| | |
| --- | --- |
| Headstock Specifications | |
| TIR (total indicator runout) at spindle nose | 0.001″ (Better runouts may be attained upon request) |
| End play at factory preload setting | 0.0002″ (preload is adjustable) |
Headstock Bearing Replacement
We don't recommend that customers replace the headstock bearings. We use custom fixtures to align the spindle and the bearings. You must return your headstock to our facility for bearing replacement*. Contact our customer service department, kim@sherline.com, for an RMA number before sending your headstock back for service.
*NOTE: Fees apply
Click the links below to learn more about the specialized fixtures and procedures for setting the headstock bearing preload.
PDF: Replacing Headstock Bearings
Video: Setting the Headstock Bearing Preload
| | |
| --- | --- |
| 40105 | 3C Headstock Case |
| 40580 | Spindle "Tommy" Bar |
| 40233 | 3C Headstock Spindle |
| 43233 | 3C Main Spindle Pulley |
| 40163 | 3C Preload Nut |
| 40430 | 3C Headstock Bearings (2) |
| 40260 | Precision Ground Head Key |
| 30117 | 3C Collet Draw Bar |
| 30118 | 3C Collet Draw Bar Knob |
| 30123 | 3C Headstock Spindle Bearing "Washer" |
| 30124 | 3C Drawbar Thrust Washer "Inner" .126″ |
| 30125 | 3C Drawbar Thrust "Needle Bearing" |
| 30126 | 3C Drawbar Thrust Washer "Outer" .032″ |
| 40540 | 5/16-18 X 3/4″ Cone Point Set Screw (2) |
| 30127 | 3C Spindle Key Way Set Screw |
| 30128 | 3C Spindle "End Cap" |
| 37160 | Rotary Table Preload Nut |
| 43234 | 3C 1″ Multi-Wrench |
| 40520 | 10-32 x 3/16″ Cup Point Set Screw |
| 30129 | 5-40 x 1/8″ Cup Point Set Screw |
| 40580 | Spindle "Tommy" Bar |
Shipping
We do not charge a flat rate for shipping because of the variations in weight for our products. Instead, we charge you what the shipping company charges us. Our website uses a shipping calculator based on the daily rates for USPS and UPS based on the weight and destination of the shipment. You can also have us use your UPS/FedEx account number to charge your shipping. Just enter it in the appropriate box on the checkout page.
Domestic orders are shipped Monday – Friday. Expedited orders must be placed by 9 am PST to ship the same day.
Orders shipping ground have a processing time of 7 working days for domestic orders and 14 working days for international orders. CLICK HERE for more information on our shipping and order policies.
Returns
Most merchandise can be returned within 30 days of the purchase date. A refund will be issued to the original form of payment at the original selling price. View our complete return policy and/or start your return online here.
Related products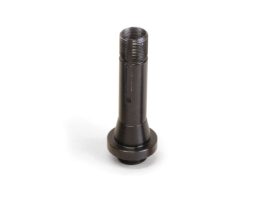 3C to 3/4-16 Chuck Arbor
About the 3C to ¾-16 Chuck Arbor If you wish to use a chuck with the 3C headstock, you can purchase P/N 10670, which is our 3C to ¾-16 chuck arbor. All of our 3- and 4-jaw chucks with a ¾-16 … Continued
$

73.32
Add to cart