Product Description
About the Trailer Tongue Weight Scale
The scale uses a simple hydraulic principle to convert pressure into a reading in pounds on the gauge. No delicate electronics, no batteries, and only one moving part. It is available with gauges reading to 1000 lb, 2000 lb, or 5000 lb for 5th wheel trailers that typically carry a larger percentage of the overall weight on the gooseneck.
The scale is machined from solid billet steel and aluminum. It has a 3.25″ body diameter and is about 4.5″ high without the included screw-on hitch extension. (6.75″ with extension installed.) Actual weight is 4.4 lb. Gauge diameter is 2.75″. One year guarantee.
Stop guessing and start towing safely. Reasonably priced for individual trailer owners. Great for travel clubs and trailer dealers too.
Gauges Now Read in Pounds and Kilograms
All gauges have a dual-scale gauge that reads in pounds on the outside of the ring and the kilogram equivalent on the inside. This feature has been requested by many trailer users outside the USA and has now been incorporated into all the scales.
The 0-1000 lb gauge reads to 460 kg
0-1000lb reads at every 100lbs and has marks at every 20lbs
0-460kg reads at every 100kg and has marks at every 20kg. 
The 0-2000 lb gauge reads to 900 kg
0-2000lb reads at every 200lbs and has marks at every 50lbs
0-900kg reads at every 200kg and has marks at every 25kg 
The 0-5000 lb gauge reads to 2250 kg
0-5000lb reads at every 1,000lbs and has marks at every 125lbs
0-2250 kg reads at every 500kgs and has marks at every 50kg
Storing Your Scale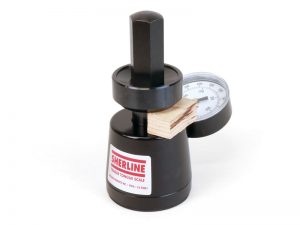 We strongly advise that you use a piece of wood (1/2″ thick) and place it between the piston head and body when your scale is not in use. This will help protect the seals from leaking over time.
CAUTION: Do NOT store your scale on its side, or in temperatures under 32° F (0°C).
Avoid Trailering Disaster!
If you tow a trailer behind your car, truck, or SUV and don't know for sure if the tongue weight is within the recommended range, you could be headed for a disaster. Too much weight and you could damage the hitch or the trailer tongue, causing a catastrophic failure on the highway. Too little weight on the hitch and you could go into an uncontrollable fishtail at highway speeds. But how can you be sure if you are properly loaded?
Once the trailer tongue weight exceeds what you can pick up by hand or weigh on a bathroom scale, many people just guess at the weight based on how far the rear end of the tow vehicle sinks when the tongue is lowered onto the hitch. This is virtually useless and a very dangerous method on which to depend. To properly load and balance a trailer you must KNOW what your tongue weight is, and the Sherline trailer tongue weight scale offers an easy and inexpensive way to find out.
Trailer Towing Guides and Tales
Click on the Instructions tab above to download our Towing Guide, Care and Tips sheet, Part Replacement Instructions, and cautionary tales of true trailer disasters.