Product Description
About Sherline Motor and Speed Control Units
The 90-volt DC motor provides far more than that of the 1/2 HP AC/DC motor we used to offer prior to 1994. A DC motor offers its maximum torque at low RPM where you need it most, so the full speed horsepower rating of an AC/DC motor can be a little deceiving as far as offering practical, usable power. The DC motor also offers smoother and quieter operation. The motor now features externally replaceable brushes, making replacement of worn brushes a simple task taking just a few minutes.
To power and control the motor a more sophisticated speed control unit is required. The control we have developed accepts any incoming AC current from 100 VAC to 240 VAC, 50 or 60 Hz and automatically outputs 90V DC to the motor, so this unit can be used anywhere in the world without a transformer. All you need is the correct wall plug or converter. In addition, a load compensating circuit has been designed into the controller. As load is applied, the speed control will add power to attempt to hold a constant speed. Once the on/off switch is switched to the "ON" position, a speed control knob is used to vary the speed over the entire range. With the two-position pulley in the "normal" position on a Sherline headstock, the speed range is about 70 to 2800 RPM. In the "high torque" position the maximum speed is cut in half but torque at any given speed is much greater. If you are using the motor in non-Sherline applications, the maximum no-load speed of the motor shaft itself is 6000 RPM. Complete specs on the motor can be found on the "Standard Dimensions and Specifications" page on this site.
Replacing an Older AC/DC Motor
This unit can be purchased to replace an existing AC/DC motor on an older Sherline machine. This very compact and well-engineered unit costs far less than other DC units of similar power offered in major industrial tool supply catalogs. If you are replacing an older AC/DC motor and speed control you can re-use the same motor mounting bracket, standoffs and drive belt, but you will need to purchase a new stepped spindle pulley. You could also purchase the complete headstock with DC motor and speed control as is shown below. A version with different pulley ratios and offering a 10,000 RPM maximum spindle speed is also available.
The drawing below shows the components in the complete headstock with DC motor and speed control unit and how it is assembled. The motor and speed control includes only the motor, speed control, belt guard assembly, power cord and motor pulley.
| | |
| --- | --- |
| The improper use of machine tools and their accessories can result in serious injury. Before using this tool, thoroughly read the instructions and make sure you understand its proper and safe use. | Always wear safety glasses when operating machine tools. |
---
Download PDF 3306 Instructions
| | |
| --- | --- |
| Motor and Speed Control | ELECTRIC MOTOR SPECIFICATIONS FROM MANUFACTURER |
| Type of enclosure | Totally enclosed, non-vented |
| Duty rating | Continuous–10 oz. in. at 6100 rpm, .85 amperes; Intermittent–30 oz. in. at 5500 rpm, 1.75 amperes (5 minutes on / 15 minutes off) |
| Output horsepower | .06 KW (60 W) at 10 oz. in. / 6100 rpm |
| AC voltage (input) | Normally 115 VAC, 60 Hz, Single Phase to rectifier (Sherline electronic speed control converts any input from 100 VAC to 240 VAC, 50-60 Hz.) |
| DC voltage | 90V DC to motor (60 Hz) |
| Speed in rpm | 6100 rpm continuous |
| Class of insulation | Class A, 105° (C.) insulation system |
| Normal full load current | .85 amperes |
| Starting current | 17 amperes instantaneous starting current (<100 milliamperes). This is also stall current in True RMS |
| Max current at time of changeover from lower speed to higher speed | Depends on load |
| Type of motor | 3.00 inch (outer diameter) sub-fractional horsepower brush-type permanent magnet motor |
| Temperature rise at ambient 50° C. | Less than or equal to 45° C. |
| Motor frame size | 3 inches |
| End use of motor | Drive unit for lathe or mill |
| | |
| --- | --- |
| 43000 | DC Speed Control Assembly w/Belt Guard |
| 45470 | Hill House DC Motor (2012) |
| 43360 | Stepped Motor Pulley |
Shipping
We do not charge a flat rate for shipping because of the variations in weight for our products. Instead we charge you what the shipping company charges us. Our website uses a shipping calculator based on the daily rates for USPS and UPS based on the weight and destination of the shipment. You can also have us use your UPS/FedEx account number to charge your shipping to. Just enter it in the appropriate box on the checkout page.
Domestic orders are shipped Monday – Friday. Expedited orders must be placed by 11 am PST to ship the same day.
Orders shipping ground have a processing time of 2-3 working days for domestic orders and 4-5 working days for international orders. Click here for more information on our shipping and order policies.
Returns
Most merchandise can be returned within 30 day of the purchase date. A refund will be issued to the original form of payment at the original selling price. View our complete return policy and/or start your return online here.
If you are working with brass or wood, we suggest you use the
toggle switch dust cover
to protect the life of your motor & speed control.
Related products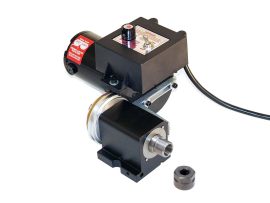 ER-16 Headstock and Motor Unit
The 3308 would replace the standard headstock, motor and speed control assembly that come on Sherline machines. The ER-16 nut that ships with your order may be plain or have a black oxide finish.
$445.00
Add to cart